Hello
I'm not sure what I'm doing wrong. I have a mod whose colour is deep black as opposed to light grey like Administrators and Moderators. I'm referring to the names under each topic on the home page. She is in her own group as she is a mod for one category.
Group Administrators - choose the mod - changed colour to the same as the rest. Is there another area to change the colour?
I would like to keep the who is online Mods/Admins dark black as in the screen shot below. Everyone else is the way I want it, expect lipsis as above.
www.bachandbachettefans.net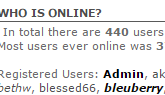 ---
Permissions in this forum:
You
cannot
reply to topics in this forum