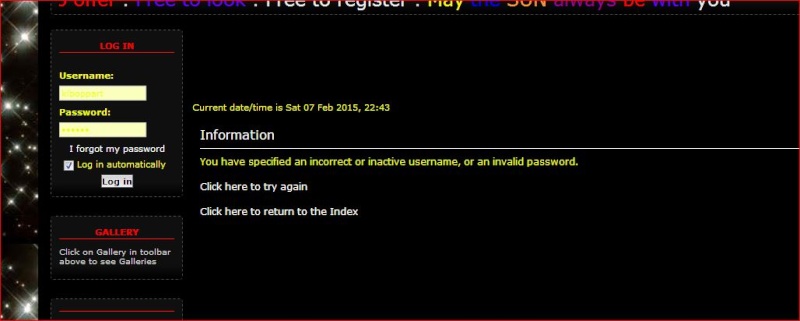 Two people emailed me saying that they could not register or log into my forum . Both . So I logged out and tried it . I got the same thing they did . I didn't change anything . What should I do ? ( the username and password boxes have yellow text . very confusing even for me )
 by azwiz Yesterday at 11:07 pm
If I could find the post I just made I would have edited it . This is actually a different topic . 
  I just tried to get a new password because it would not accept mine . It told me that the email does not match the username . that is false and phucked up .

  I then tried to register my wife . Same thing said nothing matches . Tried to retrieve her password  said email did not match username . What should I do ?

  I may not know codes , I may not quote just right . But I am no idiot . I know when something is screwed up . This is a problem . Please help .

  Ok so i get into my forum . Thank you . Did you see my other post ? My new users and my wife cannot log in or register . I did not change anything . Did you guys ?

  If you need screenshots i can take some . This what occurs . When a person registers they get all the way through to the final validate password screen , type in the password they just registered with . Tells them it doesn't match and takes them back to the registration screen . Retype same password , click save . Says invalid username . Change username and password . Says invalid email . It does this over and over no matter what . 

  I have just lost 2 new users over this . And my wife cannot register . The same exact scenario over and over . These users have never had accounts here , with the exception of one of them who could not get back in yesterday at all so I deleted his account and asked him to start over . He tried all day long . He is long gone . I cannot afford for this to continue . That last guy . It took me 2.5 years to get him in my WGT CC . Now because of this . That is certainly in jeopardy because of the frustration factor . Something is definitely wrong . I am usually able to figure stuff like this out . This I have no control over . You would be the next obvious source .
  What should I do ?
 I see that . So I watched my wife not be able to do it . 2 guys got extremely pissed earlier before I even thought there was a problem .
  Sounds like fing browser issues again . That really sucks . It is undoubtedly another Maxthon glitch . Which there are very few . There just aren't any other browsers that perform as well or provide so many features with quickness and smoothness .Unless you tell me you are using Maxthon also . Then that theory is out the window .
  I am now in a different browser . The one I use in AP for the features that don't work in Maxthon . tried to register my wife who has never tried before . So why then does it keep rejecting her registration first with Sorry but this username has already been taken? When it has not and neither has her password or gmail .? And what has nto happen to clear those names so it stops rejecting people . IDK what you did but I couldn't even get in without going through utilities .
   This is ridiculus I havn't been able to get in my forum for 2 hours . There is nothing incorrect about anything I am doing .You cant see the username and passwords(because the text is yellow) but they have other peoples names stuck in them .
I cannot delete them
. Will someone please respond .Hi, azwiz, I registered for your Forum and logged in just fine.
   It doesn't matter that you didn't have any problem . No one else can log in and especially me .
  Please respond . I am starting to get agitated .
  Ok I just got in with another browser
Hi, azwiz, I registered for your Forum and logged in just fine.
Last edited by azwiz on February 8th 2015, 10:41 am; edited 6 times in total

Derri

Help

er







Posts

: 8749


Reputation :

637


Language

: English & Basic French


Location

: Scotland, United Kingdom



---
Permissions in this forum:
You
cannot
reply to topics in this forum