Last edited by FIB on February 15th 2015, 6:51 pm; edited 1 time in total
Hi
@FIB
this update is still live on your forum
Screen shot: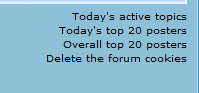 on some forum it's at the top and some are on the bottom right hand side as yours is on your forum that is on your profile

all you have to do is click the links

Hope that helps
APE
Ok sorry for the confusion, I thought it was something I could have added to the new widget you made.
you can make a widget and add them it's just a link to that page.

I just did not like the text on the forum so made buttons and put them in the widgets under my User Control Panel for easy use.
ok thank you
Topic solved and archived
---
Permissions in this forum:
You
cannot
reply to topics in this forum