Hi guys. I wanted to remove the who is online page in my forum. Is it possible or not?
My forum: http://celestialflyffr2.forumtl.com/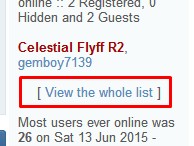 When you click that, it will redirect you here: http://celestialflyffr2.forumtl.com/viewonline 
I want to remove or only admin can view only. No members/guests/moderators can view.
I've been looking for the answer for 3 days.
-------------------------------
News: I fixed it with myself hahaha. Templates > Portal > mod_whoisonline > removed something BOOOOM!
Last edited by Nick Alcober Sta Ines on June 14th 2015, 3:10 am; edited 1 time in total (Reason for editing : Added how to fix)
Topic solved and archived

When your topic has been solved, ensure you mark the topic solved.
Never post your email in public.

---
Permissions in this forum:
You
cannot
reply to topics in this forum