hey,
why my code box variable doesn't have Different color like this
i need this variable color of Code Box: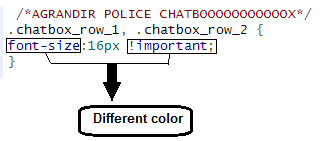 My Code Box :-
Last edited by omarpop23 on November 9th 2015, 9:25 pm; edited 1 time in total
Hi,
You need to add a script which can highlight code syntax. At the moment, you can find a tutorial for this
here
. ( In French )
You can also find other code syntax highlighters on the web such as Google's pretty print.
https://github.com/google/code-prettify#readme
Topic solved and archived

When your topic has been solved, ensure you mark the topic solved.
Never post your email in public.

---
Permissions in this forum:
You
cannot
reply to topics in this forum