Posting page with blue color that won't change to white:
http://teapartywhitehouse.americantalk.net/t2-what-s-in-the-basket-could-the-contents-make-a-difference
I'm wanting to change the color in the message posting areas from blue to white and this change does in fact happen in the administrators color change preview pane function but doesn't reflect the change in the viewable public forum script itself.
Below is an image of the admin. preview pane I'm talking about. The full forum preview pane doesn't reflect the color change to white but this small administrator area preview pane next to the color change functions does reflect the change.
Thanks for the help!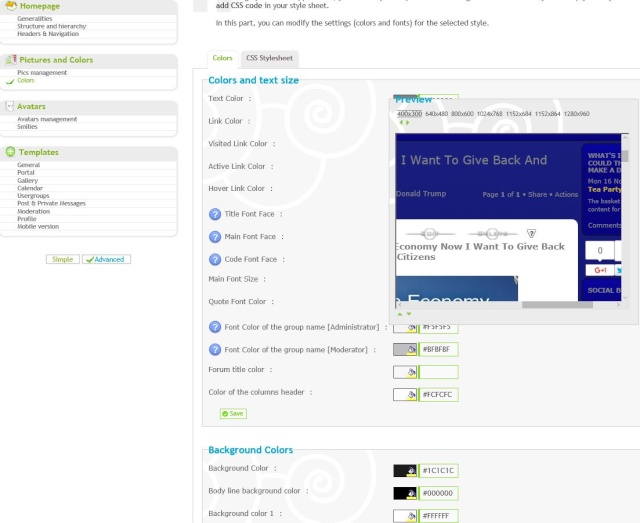 I finally figured it out! You have to go into the CSS stylesheet tab and change line
#160
to the color you want the post background to be.
The colors tab selections should change the color but it doesn't work. If you want the post background color changed you have to change it in the CSS stylesheet.
You only have to change it in CSS if it is in the stylesheet.  If it is not in the CSS, the colors tab section will work,  The CSS Stylesheet overrides the colors tab section.

Topic solved and archived

When your topic has been solved, ensure you mark the topic solved.
Never post your email in public.

---
Permissions in this forum:
You
cannot
reply to topics in this forum