I have just tried the script by
@Ange Tuteur
(see link below), but it didn't work and im using PhpBB3.
phpbb3 & invision : Indicate the online status of a user in a profile field
and it looked like this on my forum ?.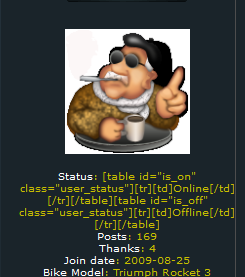 Im almost certain ive done everything correctly (its not a hard tutorial to follow) and I've
checked my additions 3 times and can't see anything wrong, but you never know. lol
Last edited by rocket2300 on March 3rd 2016, 4:28 pm; edited 1 time in total
Hi! I think the problem is that you used a [ and ] where you should have used a < and >, the brackets won't work in HTML code like BBcode!

Ibersit

New

Member




Posts

: 5


Reputation :

1


Language

: English/Dutch



Hey,
For the profile field
type
make sure you choose a "text
zone
" not a "text
field
". Text fields cannot format bbcode.
The setup should look like this :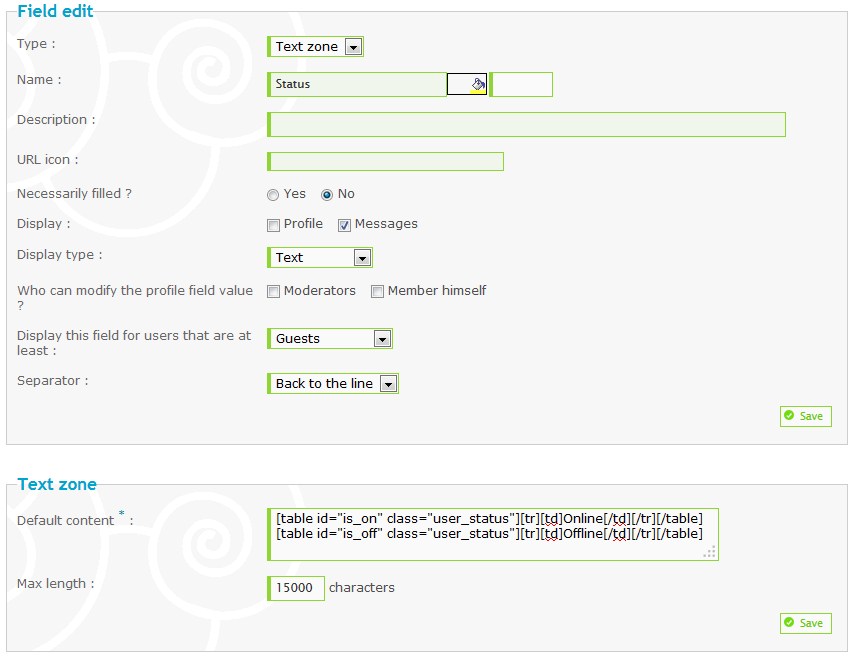 Thanks Ange, yes it was the "text zone" not a "text field", I never noticed that
bit. I thought it might be something simple like that
Solved.
Indeed it is a small detail that can be overlooked.
Topic archived
Have a good day.
---
Permissions in this forum:
You
cannot
reply to topics in this forum