I want to use some graphics I made for the forum's table header, I don't know how to do this. I would also like to know how to remove the extra table labeled as 'forum'.

Last edited by Kamui on March 15th 2016, 1:09 pm; edited 1 time in total
Administration Panel > Display > Structure & hierarchy
AP > Display > Colors & Pictures > Pics Management
Advanced Mode
It should be in the first tab.

When your topic has been solved, ensure you mark the topic solved.
Never post your email in public.

This is what you mean?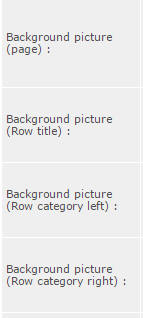 Did you check the message I sent? Have you found the correct page?
Yeah, the only problem now is this, I made the gfx long enough for that stuff to be black. How do I fix this?

Nevermind, I found a way around it. One last question though. I want to know how to give this table a background color. It's where you can post messages it, I want a table to separate it so it isn't blending together. I basically want some type of post separater that looks neat like forumotion, or something like this.
Forum Link:
http://narutowindstorm.motionforum.net/t1-your-first-subject#4

Hello,

Is this solved, I see it has been marked with the solved icon? Please respond within 24 hours.

-Brandon


Remember to mark your topic

when a solution is found.
Topic solved and archived
---
Permissions in this forum:
You
cannot
reply to topics in this forum