My forum:
http://www.1000sunny.net/
ver: phpbb3
My problem comes along with this TUT by
@Ange Tuteur
https://help.forumotion.com/t129060-widget-recent-topics-of-a-specific-sub-forum
I just notice that the widget always display those topics that being set as annoucement or global announcement at first, even those they don't have new message in them.
So if I set a topic to be a global announcement, they appear in many recent topics of sub-forum widgets.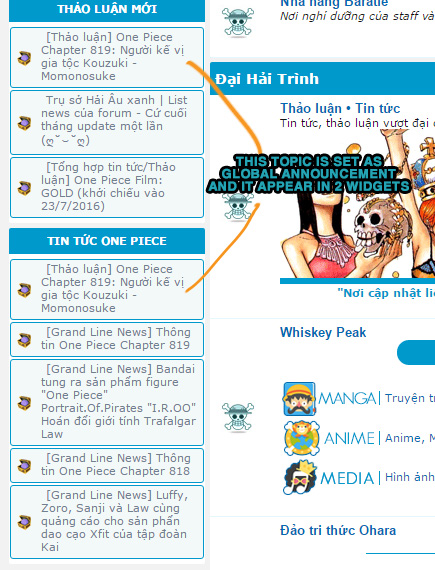 How can I fix these widget to work like the "recent topics" widget of forumotion system, which they only appear the latest topic having news comment and are not affected by 'announcement or global announcement'
Last edited by Yuushishio on March 15th 2016, 1:10 am; edited 1 time in total
Hey,
In the script replace this part :
Code:

div.topic-title-container:lt(3)
by :
Code:

.forumbg:not(.announcement) div.topic-title-container:lt(3)
Make sure to change the 3 back to the amount of topics you want to get.
Thank you very much. Problem Solved.
Topic solved and archived

When your topic has been solved, ensure you mark the topic solved.
Never post your email in public.

---
Permissions in this forum:
You
cannot
reply to topics in this forum