Hi, on 7 march i received PM from APE and i checked message today on my forum about icons that i violate the rules and used the icon of old layout of Forumotion i don't knew that its against of copy rights i really apologize i have deleted all icon Please check my forum
http://avacs.zforum.biz
if anything remaining against forum rules please tell me i will remove it but don't ban my forum i apologize Thanks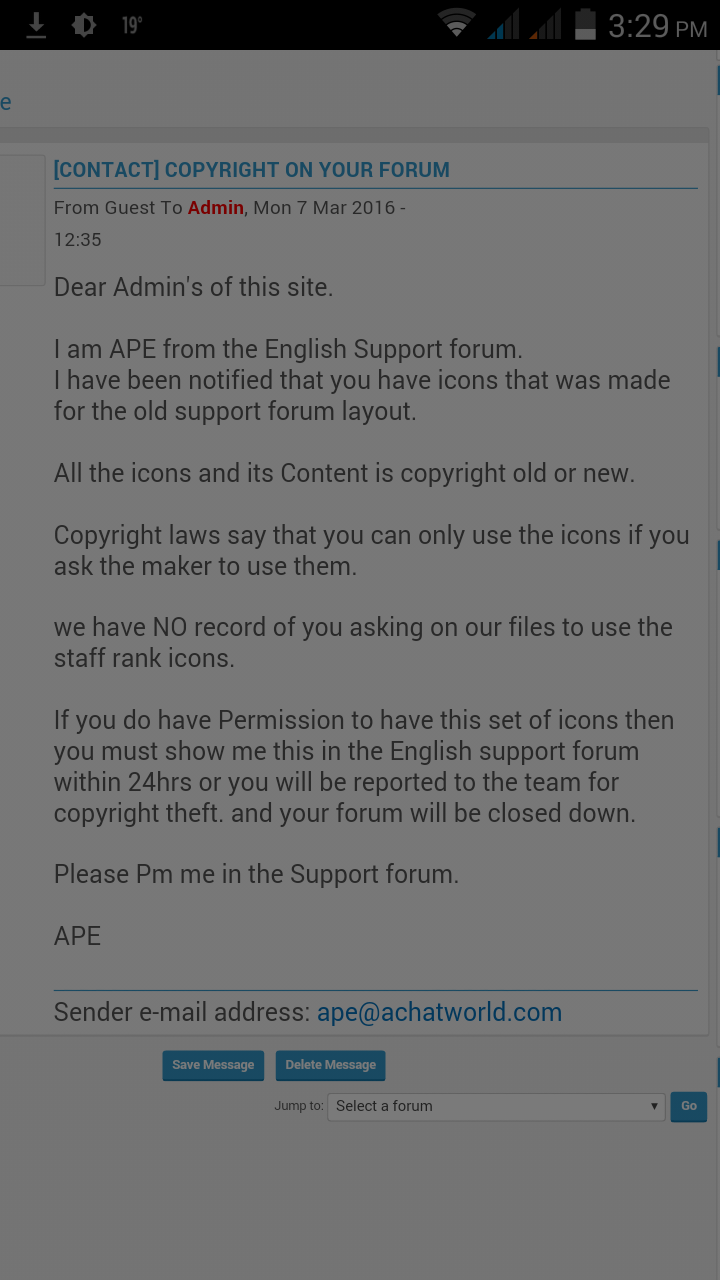 Last edited by faisii_x on March 18th 2016, 12:27 pm; edited 1 time in total
@faisii_x

wrote:Hi, on 7 march i received PM from APE and i checked message today on my forum about icons that i violate the rules and used the icon of old layout of Forumotion i don't knew that its against of copy rights i really apologize i have deleted all icon Please check my forum

http://avacs.zforum.biz

if anything remaining against forum rules please tell me i will remove it but don't ban my forum i apologize Thanks
Please, don't rely on others to check whether you handle conform Forumotion's TOS. It's saddening, sickening even in my believe, to see you put the pressure on
@APE
now, while you just KNOW the rules. YOU were the one to agree with them, so YOU're the one to be held responsible in the end, and not
@APE
!
@APE
is a very much appreciated and respected Forumotion's staff member. He won't be kidding around with you and he really means business!
Anyone can file a report against anyone's site if the TOS is broken. So, please, don't blame
@APE
.
He gave you 24 and it long passed. Furthermore, it's not really up to us but a higher call on that. Essentially, it's out of our hands atm.
Samantha.

Guest

Guest





Thanks for marking your request 'Solved':
http://prntscr.com/ags3mt
Samantha.

Guest

Guest





Topic solved and archived ~ brandon_g


Remember to mark your topic

when a solution is found.
---
Permissions in this forum:
You
cannot
reply to topics in this forum