URL:
http://randomfandoms.forumotion.com/
my home page has 4 categories in it. in one, I have two clickable options, both which bring me to a category page. in my admin panel, I have two categories listed in the category page, but they will not show themselves. both categories have forums in them. I have medium split categories enabled in the structure/hierarchy tab in my admin pannel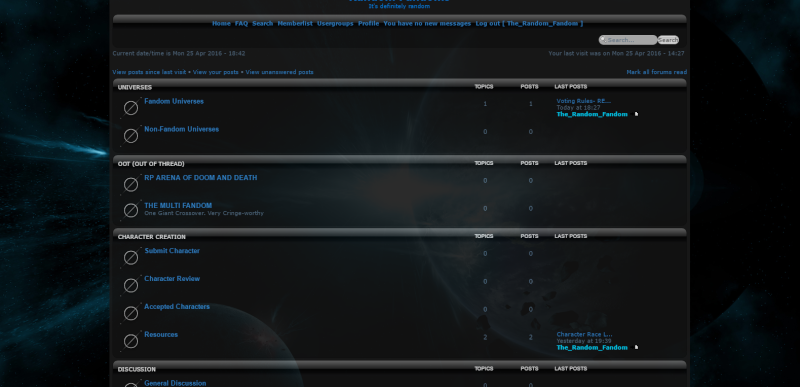 My home page
When I click on Fandom Universes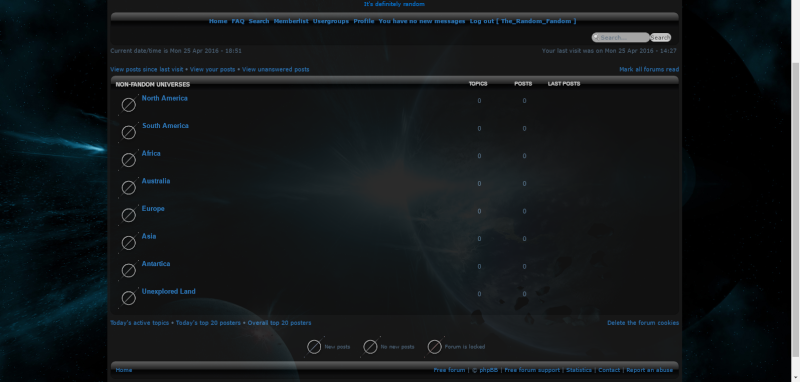 When I click on Non-Fandom Universes.
Here is the problem. I have two categories, one called Modern Universe and one called Medieval Universe. all forums except the Unexplored Land forum go into the Modern Universe category, the other going into Medieval Universe. however, as you can see in the link above, the two categories mentioned are not shown. How can I get the two categories to appear? Thanks for your time and consideration.
EDIT: I found the solution. thank you for providing those links.
Last edited by The_Random_Fandom on April 27th 2016, 12:12 pm; edited 1 time in total

When your topic has been solved, ensure you mark the topic solved.
Never post your email in public.

Topic solved and archived ~ brandon_g


Remember to mark your topic

when a solution is found.
---
Permissions in this forum:
You
cannot
reply to topics in this forum