I made it red so you can see it. I want to get rid of it, before I had it as
#FAFAFA
(through colors not CSS)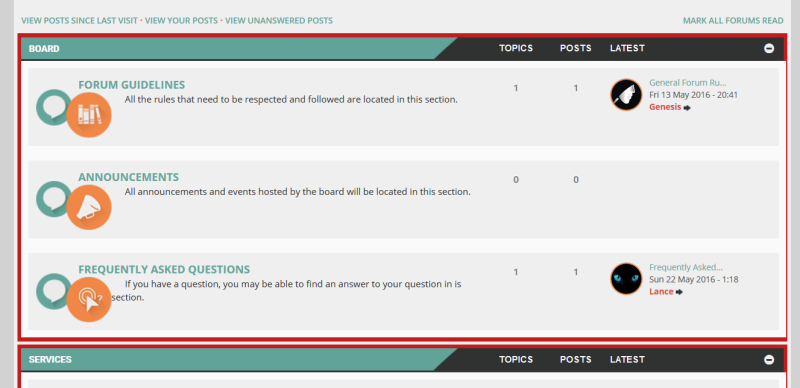 Also, I want to get rid of this white space that prevents things from being full length. You can see in image on the left of the Who's Online blakc bars. I am pretty sure this is from CSS but I cannot find it.
Please post your forum's link for appearance issues/questions.

When your topic has been solved, ensure you mark the topic solved.
Never post your email in public.

Add this to your CSS:
Code:

.forabg {
background-color: transparent !important;
}

Guest

Guest





Code:


/* To make the titles stretch across fully */
h1.page-title {
margin-right: -5px;
margin-left: -5px;
}
#main-content .h3 {
margin-right: -5px;
margin-left: -5px;
}
.h3 a[href="/viewonline"] {
display: inline;
font-family: Roboto, sans-serif;
font-weight: 700;
margin-top: -23px;
padding-top: 5px;
text-align: center;
}
/* To fix the white border stuff */
ul.forums {
margin-right: 0!important;
}
.forabg {
border: none;
background: none;
}
Add this whole css in AND remove this part
Code:

.h3 a[href="/viewonline"] {
background-color: #333!important;
border-bottom: 3px solid #f08746;
display: block;
font-family: Roboto, sans-serif;
font-weight: 700;
height: 25px;
margin-top: -23px;
padding-top: 5px;
position: absolute;
text-align: center;
text-decoration: none;
width: 90%;
z-index: 0;
}
And you're done

---
Permissions in this forum:
You
cannot
reply to topics in this forum