Hello all.
I'm asking for a well-coded and cordinated orange punbb style.
Hex-color :
#ffaa00
Some features : 
1- I want a logo over the navbar in a good way. 
like this :

2- Some codes for the "Quote and codebox" and the font shadow in the topic. 
3- Advanced profile view "in the topic"  code , as follows :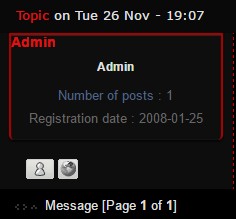 Yes, but unfortunately I could not find the fit section for this stuff.
Precisely because there is no service offered that makes themes for you.
You could try to do it on your own and ask each question separately. Like "how can I make the code box like this" and then give an example or whatever. That would be the way to go.
PS: Offering in title means you are giving one, but you are instead requesting one.
We do not do theme request on the support forum.  Take a look at the forum services section in the promotional section.  There are many forums that offer this type of service.

Topic Locked


When your topic has been solved, ensure you mark the topic solved.
Never post your email in public.

---
Permissions in this forum:
You
cannot
reply to topics in this forum