Page 8 of 8 •

1, 2, 3, 4, 5, 6, 7, 8

First topic message reminder :
Hello everyone,
Since November 2015 I've been working on developing a new "forum version" for Forumotion forums that's modern and responsive. Today I've recently published the production release of this software and would like to share it with all of you who are looking for a more modern design that's also mobile-friendly.

Forumactif Edge features :


Modern mobile-friendly design.

Smart automated control panel that assists you with installation and other tasks.

Dynamic theme selector so your members can browse in the color they prefer.

Side panels for widgets and quick navigation so your forum has maximum space and accessibility.

Automatic color coding of posts based on usergroup affiliation.

Built in counter for reputation votes.

Forumactif Edge will constantly evolve because it's open source and managed by the community. That means we'll take feedback, suggestions, and reports from the community -- that's right,
your
voice can shape the future of this project ! If you'd like to install Forumactif Edge on your Forumotion forum, please see the wiki link below which includes detailed instructions on how to install the theme along with additional information on Forumactif Edge that's constantly changing.
Installation Tutorial :
https://github.com/SethClydesdale/forumactif-edge/wiki/Installing
Not ready to install yet ? No problem ! Take a look around, check out the FAQ and previews below, or visit our website link below to learn more about what Forumactif Edge has to offer !
Website :
https://sethclydesdale.github.io/forumactif-edge/
FAQ
Do you have any questions or concerns about Forumactif Edge ? If so, feel free to check out
our FAQ
page or leave a reply below with your question ! We're always ready to answer your questions !

Previews
Mobile Preview :
Forumactif Edge is responsive, so that means it's mobile-friendly ! Don't believe it ? Check out Google's
Mobile-Friendly test
!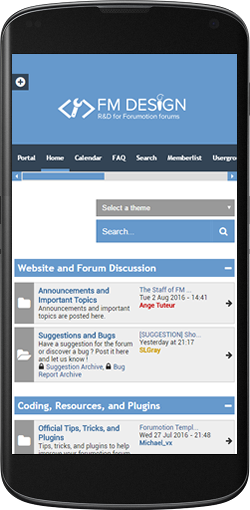 Feature Preview :
Forumactif Edge comes with a theme changer that allows your members to browse in the color of their choice, and to give your forum maximum space it docks widgets to a side panel !
Full Page Screenshots
Click any of the links below to see a full page screen shot of Forumactif Edge in action.
If you have any questions or feedback, feel free to leave them below. I hope all of you enjoy this theme as much as I have making it.

Last edited by Ange Tuteur on March 18th 2017, 12:16 am; edited 4 times in total
---
@Tonight

wrote:Two additional bugs with mobile:

Spoiler:

Jump to box is wider than forum and creates a lot of white space (you can see it if you move to right). Happens in sub-forums and topics.

Username and password input boxes are too wide. Happens in login page.
@Tonight
thanks again, I've added these to my todo list for the next patch. There's no ETA at the moment, but when I start work I'll let you know. Currently however I've been resting, because I've been feeling under the weather recently, so I haven't really been working on anything at all. The weather this time of year usually beats me up pretty bad haha.
@YoshiGM

wrote:Ok! I will consider install your theme coming soon

Thanks Ange
Cool, and no problem !
Update v1.2.12
Forumactif Edge v1.2.12 is now available ! This is a quick patch that fixes the image resizer not working due to a recent update by Forumotion.


Fixed image resizer not working.

Release link: https://github.com/SethClydesdale/forumactif-edge/releases/tag/v1.2.12
Manual Update
In the event you cannot use the automatic updater, follow the steps below to manually install this patch.
Go to Admin Panel > Modules > JavaScript Codes Management > and edit [FA EDGE] ALL.JS
Find :
Code:

.alt
Replace by :
Code:

.longdesc
Save the Javascript file and the image resizer should be fixed.
Help
Don't know how to update Forumactif Edge ? Click the following link to find out how !
https://github.com/SethClydesdale/forumactif-edge/wiki/Checking-for-updates
Page 8 of 8 •

1, 2, 3, 4, 5, 6, 7, 8
---
Permissions in this forum:
You
cannot
reply to topics in this forum