Nút đóng mở thanh chat với fanpage facebook
demo: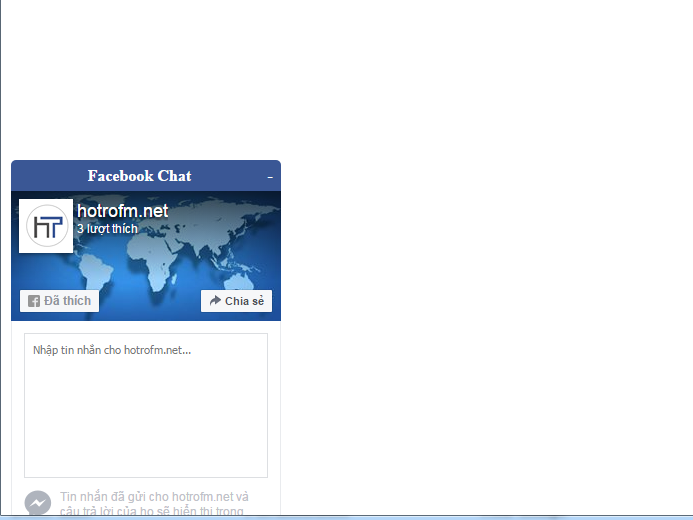 copy> paste code in head or footer
Code:

<div class="fb-chat" style="position:fixed; z-index:9999999; left:10px; bottom:-300px;width:270px;height:330px">
<h4 class="fb-tab" style="width:94%;height:25px;padding:3px 8px;line-height:25px;color:#fff;text-align:center;background:#3a5795;border-top-left-radius:5px;border-top-right-radius:5px;margin:0px;cursor:pointer">
Facebook Chat
<span style="float:right;cursor:pointer" class="cong">+</span>&nbsp;<span style="float:right;display:none;cursor:pointer" class="tru">-</span>
</h4>
        <script>(function(d, s, id) {
 var js, fjs = d.getElementsByTagName(s)[0];
 if (d.getElementById(id)) return;
 js = d.createElement(s); js.id = id;
 js.src = "//connect.facebook.net/vi_VN/sdk.js#xfbml=1&version=v2.5";
 fjs.parentNode.insertBefore(js, fjs);
 }(document, 'script', 'facebook-jssdk'));</script>  <style>#cfacebook{position:fixed;bottom:0px;right:8px;z-index:999999999999999;width:250px;height:auto;box-shadow:6px 6px 6px 10px rgba(0,0,0,0.2);border-top-left-radius:5px;border-top-right-radius:5px;overflow:hidden;}#cfacebook .fchat{float:left;width:100%;height:270px;overflow:hidden;display:none;background-color:#fff;}#cfacebook .fchat .fb-page{margin-top:-130px;float:left;}#cfacebook a.chat_fb{float:left;padding:0 25px;width:250px;color:#fff;text-decoration:none;height:40px;line-height:40px;text-shadow:0 1px 0 rgba(0,0,0,0.1);background-image:url(data:image/png;base64,iVBORw0KGgoAAAANSUhEUgAAAAEAAAAqCAMAAABFoMFOAAAAWlBMV…8/UxBxQDQuFwlpqgBZBq6+P+unVY1GnDgwqbD2zGz5e1lBdwvGGPE6OgAAAABJRU5ErkJggg==);background-repeat:repeat-x;background-size:auto;background-position:0 0;background-color:#3a5795;border:0;border-bottom:1px solid #133783;z-index:9999999;margin-right:12px;font-size:18px;}#cfacebook a.chat_fb:hover{color:yellow;text-decoration:none;}</style>  <script>
 jQuery(document).ready(function () {
 jQuery(".chat_fb").click(function() {
jQuery('.fchat').toggle('slow');
 });
 });
 </script>      
<div class="fb-page" data-tabs="messages" data-href="https://www.facebook.com/hotrofmnet-1147991938592467/" data-width="350" data-height="400" data-small-header="false" data-adapt-container-width="true" data-hide-cover="false" data-show-facepile="true" data-show-posts="false">

</div>


<script type="text/javascript">
$(function(){
$(".fb-tab").click(function(){
if(parseInt($(".fb-chat").css("bottom"))==-300){
$(".fb-chat").animate({
"bottom":"25px"
},500)
$(".cong").css("display","none");
$(".tru").css("display","");
}else{
$(".fb-chat").animate({
"bottom":"-300px"
},500)
$(".cong").css("display","");
$(".tru").css("display","none");
}
});
});</script>
you edit
Code:

https://www.facebook.com/hotrofmnet-1147991938592467/
READ MORE:
http://www.hotrofm.net/t115-code-nut-dong-mo-thanh-chat-voi-fanpage-facebook
Since this is the official English support forum, you need to make sure all information is in English.


When your topic has been solved, ensure you mark the topic solved.
Never post your email in public.
---
Permissions in this forum:
You
cannot
reply to topics in this forum