Hello all. Hopefully this is the right spot... we're usually able to figure things out for ourselves, but this one has me a bit stumped. lol
A member reported that she was unable to see the toolbar buttons for messages. They're missing for me too, but this only happens on the mobile firefox browser. Firefox on the computer works fine, as do other mobile browsers.
I tried disabling our widgets and javascript and removing CSS and template changes. It didn't help. Does this mean it's just a browser issue? Anything to be done?
Screenshot: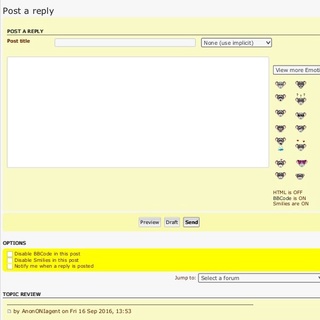 Thanks for any info.

Are your browsers up to date on your mobile devices?


When your topic has been solved, ensure you mark the topic solved.
Never post your email in public.
I don't use Firefox, so I had to install it just today. It's listed in my apps as up to date.
---
Permissions in this forum:
You
cannot
reply to topics in this forum