Technical Details
Forum version :
#phpBB2
Position :
Administrator
Concerned browser(s) :
Internet Explorer
Who the problem concerns :
All members
Forum link :
http://swmdclub.forumotion.co.uk
Description of problem
All members bar Admin see the following:
Permissions in this forum:
You cannot post new topics in this forum
You cannot reply to topics in this forum
We may have had some sabotage from a prior Admin/Mod, but am unsure. I'm new to this role but have spent hours on the Admin Panel and tried setting up a User Group for Members etc to no avail. Would really appreciate some expert advice. Thanks Nick
Edit: On Forum Permissions Control the Presets for Write topics or messages is Blank. I've tried changing to Members and Saving but this doesn't hold, it reverts to Blank. Is this related??

Last edited by nickinstick on November 24th 2016, 8:45 pm; edited 1 time in total


When your topic has been solved, ensure you mark the topic solved.
Never post your email in public.
Thanks for your reply.

I am editing an existing Forum or to be precise the problem is on an existing forum that's been running for several months without this issue. Yes have been checking Positions in the Advanced setting as you advise. From my perspective Permissions all look good.
I'm at a loss, I've followed the above and in fact it was already in place.
Have screen printed the relevant pages displaying permissions in case you guys can see the issue. I would really appreciate any advice you can offer.
The first screen print was how it was and the 'Write Topics or Messages' was Blank. You will see below that I have amended this to read Members. I have done that and logged back in on my personal profile Nickinstick and I still see I cannot write or reply to topics etc, the same for everyone on the forum.
Thanks Nick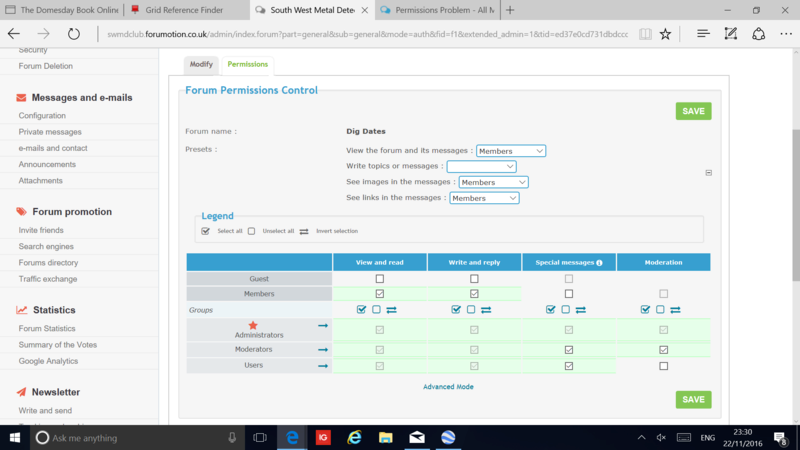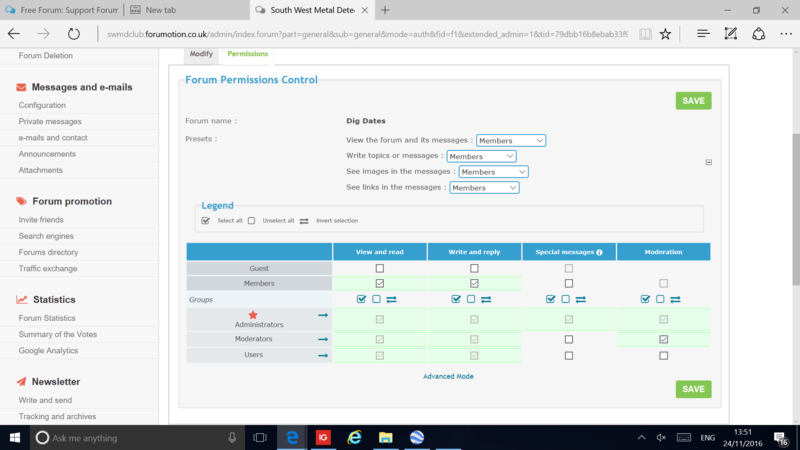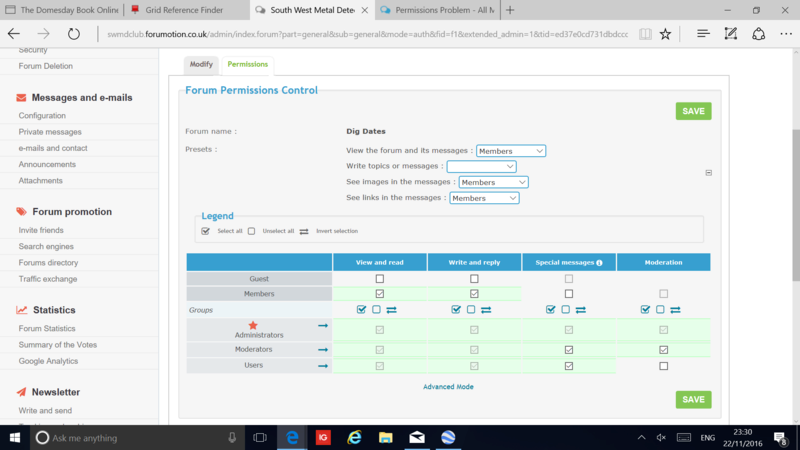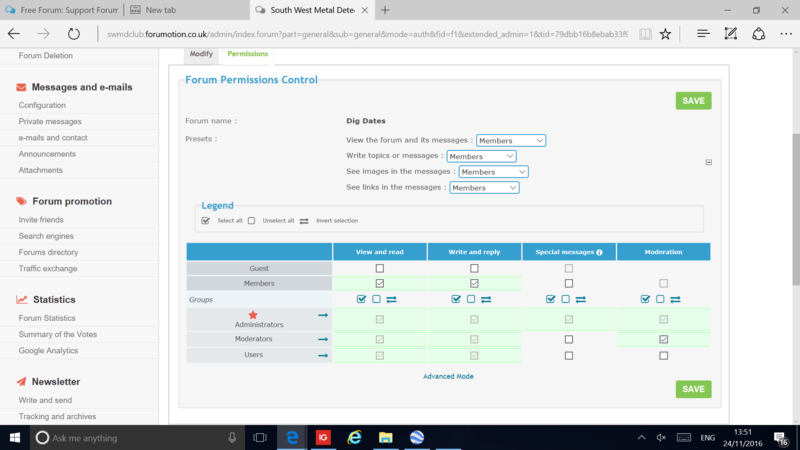 hello 

can the members see the buttons add reply and new topic ?
Hello,
Have mark the specific forum as locked from ACP?

Sorry but how could I check this? I have looked right through the Admin Panel but cannot find it.

Thanks
In answer to Skouliki, no they cannot.
please see if you have set your forum to on holiday
ACP >> General tab >>

Forum >> Forum on holiday : NO
SAVE.

Thanks APE you've got it. I don't know who did that, very odd, but all fixed now. Thanks to all for helping.
You are so welcome have a great day
| | |
| --- | --- |
| | Problem solved & topic archived. |
---
Permissions in this forum:
You
cannot
reply to topics in this forum