Greetings,
http://swcbattlecards.forumotion.com/
So, I'm trying to get a forum-based card game up and running for me and some players to enjoy it. The problem is no matter what I do on the 2nd page of registration, there is no "Confirmation code". Which causes the website to not approve the account because it can't prove you're not a spammer.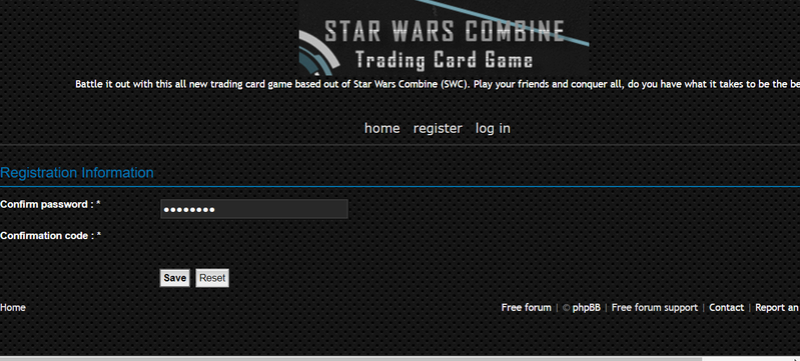 As you can see by the screenshot there' just an empty space below theconfirm password.
So what should I do?
The forum is a phpBB (could not find that option on the list when I registered)

Crispin Sygnus

New

Member




Posts

: 1


Reputation :

1


Language

: English



Good moring Crispin,
Do you have customized templates on your forum ? I think this is problem to hide the captcha while creating a new account.

Try copying your custom codes to a notepad and check if the confirmation code reappers.
Hello and welcome to the English support forum.
My names APE and I will try and help you today.
I need to ask you some Questions about settings used on your forum to help you more.
1,
Q,
Do you have any JavaScript installed on your forum ?
If yes Please turn them off and see if it comes back.
Q, How do i turn them off without loosing the codes?A,
ACP >> Modules tab >>  

 HTML & JAVASCRIPT >> Javascript codes management >> Enable Javascript code management : click
No
then Save.
Don't worry this only turns off the codes for now.
Now if you Don't have any code used there then no matter we will try other things.
---
Next we need to know if you have changed any codes in your templates.
2,
Q, Have your changed any templates?
Your templates can be found here.
ACP >> Display Tab >>  

Templates >> General >>
agreement ...
if you have changed anything there then you may have messed up your codes some place
Also note that this page.
You can turn this off and not loose any settings you have made by the same page
Force the default templates : tick
yes
then save.
---
3,
Q,
Have you added any CSS files to your forum before you lost this setting?
if yes please try and list all the codes you have used.
Please post your CSS files here if you have changed any.
Note you must only post codes on this forum using the Code tag
The button looks like this >>
If you have not made any change to this lot of questions then I will be happy to ask some one from our head office to take a look at your forum for you.
APE.
I went to your forum and the catpcha works as it should....
---
Permissions in this forum:
You
cannot
reply to topics in this forum