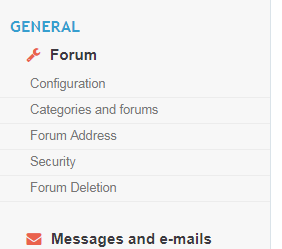 Ok, let's start. When i click on "Forum Address" it shows me this:
 Ok? Now i have to go to "Personalized domain name". When i do it it shows me this:

This means that i have to pay? What is going on?
Thank you.
Yes but, i had bought a domain and now you say me to buy it again. I had registered the domain before you make this new change.
If you have bought it before then you can use it until it expires
Yes but this that i want to say is that i cant. In my DNS records it says that
www.yugioh.gr
is a destination for domain-yugioh.forumgreek.com
When i go to forumotion admin panel it says that I need to pay. Please help
The section you point is for external domains (not purchased through us), if you purcashed it through us, then that section is actually irrelevant because our system already automatically sets up a re direct when you have an active domain name thriugh us.

Edit: I just checked and your custom domain name already leads to your forum currently.


Remember to mark your topic

when a solution is found.
Thanks a lot man

Yes, now it can be seen.
SOLVED!


Remember to mark your topic

when a solution is found.
---
Permissions in this forum:
You
cannot
reply to topics in this forum