Hopefully I'm posting in the right place.
Over the last few days, most of my forums membership has noticed that new posts are no longer being indicated making it appear as if there is no activity and now everyone has to figure out for themselves what is new since they last visited.  Huge pain.
Anyone know the cause or the cure?
http://rosterwars.forumotion.com/
edit: some say it works if you're on the site and people post....but it's not working if you're away and there is posting.
Hmmm, the arrows you showed is what I was referring to. It seems that things have been working again since I posted here.

But your answer indicates that it shouldn't be working because of the way I have it set up???? But it has worked well for the 7 or so years we have been here.

Hopefully whatever it is/was corrected itself.
yes see ..if you add an active URL the image is showing ok 
your url
https://2img.net/h/www.rosterwars.com/mbindicatormain.png?v=1.4
s  is wrong this will not fix unless you change it  (if you click the image link is broken)
lately, many image hosting services have changed their policy about third parties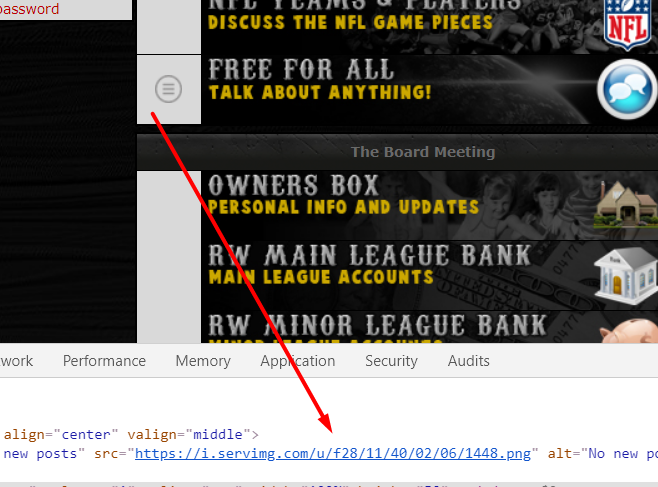 Hmmm, I don't follow as things have been working since I brought this up.

I feel like my setup has caused some confusion here. My URL you referenced above is working. It's intentionally blank. That's if there are no new posts. When there are some, there's a shield that appears.

It's worked for 7+ years and is seemingly working again so we just had a couple days where things were not. Not trying to argue, just don't follow. I gather if at some point things just refuse to work that I would have to consider having everything hosted by servimg

Thanks!
we had an update that rolled back due to some general issues
maybe that update affect your forum also

may i consider this solved?

thank you
| | |
| --- | --- |
| | Problem solved & topic archived. |
---
Permissions in this forum:
You
cannot
reply to topics in this forum