Technical Details
Forum version :
#phpBB3
Position :
Founder
Concerned browser(s) :
Google Chrome
Who the problem concerns :
All members
When the problem appeared :
2/2020
Forum link :
https://f1classic.forumotion.com/
Description of problem
Previously we have been notified of "copyright" infringement complaints and have replied to each one of the complaints indicating either that the offending content has been removed or explained how there either wasn't a legal copyright claim because of lack of original content or legal ownership of the product or design involved. There have been three such instances and to date, all three of these events are still open with no reply from Forumotion.
Now we are facing the deletion of our forum for non-compliance. We have made all efforts to be in compliance but have had no feedback from Forumotion.
We have had a fantastic 13 years with over 10,000 participants who still value our content and community.
Please advise as to how we may resolve this issue. It would help if Forumotion could specify what content is out of compliance with the rules. It would help, since Forumotion has already removed some content from the forum, what further steps we must make to come into compliance.
We are here and ready to meet compliance guidelines.
Thank you and we hope to hear from you soonest as the clock seems only to have 9 days remaining before we are flushed from the system.
Sincerely,
Clif Davis and the management team.
New

Member




Posts

: 1


Reputation :

1


Language

: English



Do you mean you have an message in your AP that says it will be ban unless you fix the violations?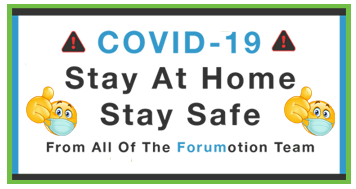 When your topic has been solved, ensure you mark the topic solved.
Never post your email in public.
Admin

istrator





Posts

: 47971


Reputation :

3373


Language

: English


Location

: United States



Hello I think i can help here.

We have had a number of reports of your forum having items used from other sites that have copyrighted items on them.

Our team have removed the posts on your forum a number of times and again we find post on your forum with copyright from other sites.

We take copyright by the law and right now your forum is still having copyright items on it.

If you would like to talk to me in private then you are more then welcome to send me a PM.

I can not tell you who is reporting this but i can link you to the last post made on your forum that has a copyright on it.

Remember you as the founder MUST keep to our rules and you must make sure you have the right to post your content on your forum.

By the EU law you must ask the owners of other sites if you can use anything of theirs before posting it.

Regards.

APE.
Admin

istrator





Posts

: 15640


Reputation :

1687


Language

: fluent in dork / mumbojumbo & English haha



---
Permissions in this forum:
You
cannot
reply to topics in this forum