| | | |
| --- | --- | --- |
| | New : Embed enriched content from a link via the EMBED tag | |


Dear Forumotion users,

We are happy to annonce a new feature available now on all Forumotion forums: the possibility of embedding content in messages.

You may be wondering what an "EMBED" is and what is it for. An EMBED makes it possible to enrich a link by showing information and particular formatting. Basically, you insert a link from a compatible service (see the list below) and the link is automatically transformed into a block of content that varies in appearance from one social network to another.

Indeed, we have had several requests regarding the integration of Tweets, Facebook posts, TikTok videos... With the protection of HTML, embedding codes provided by social networks in a message often posed problems. Thanks to EMBED, you can easily integrate content from media and social networks and thus enrich the discussions on your forum.



How to add embedded content on the forum?

To use this functionality, all you have to do is use the new "EMBED" button in the editor and insert the link to enrich. Just press the "Embed" button in the editor, add the link and press "Insert":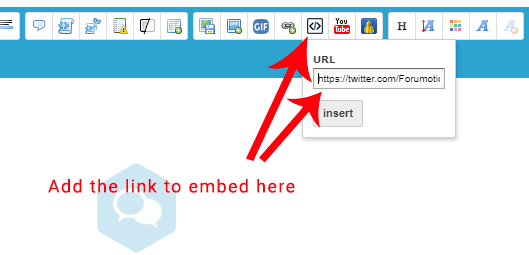 Here is an example of embedded tweet :




Please note: this feature does not manage all online services. Only the most used as:





Facebook




Twitter




Instagram




Imgur




TikTok




YouTube




Dailymotion





If the link entered in the [embed] tag is from an unmanaged service, you will simply get the link entered without displaying any particular features.
 

How to set the option in the Admistration Panel?
 
As you can see, we do not want to embed the links automatically without going through the [embed] tag. Automatic generation of an EMBED significantly slowed the speed of page loading unlike manual addition. It is therefore an excellent compromise for all.

This option is enabled by default on all forums. As administrator of the forum, you have of course the possibility of deactivating this option in the administration panel: General > Messages and emails> Configuration> Allow Embed Links via [EMBED].


| | |
| --- | --- |
| A Forumotion Important Announcement | |

The Godfather

Admin

istrator





Posts

: 4836


Reputation :

824



Luzz, skouliki, Ape, SLGray, YoshiGM, SarkZKalie, TonnyKamper and like this post
Similar topics
---
Permissions in this forum:
You
cannot
reply to topics in this forum