Ok i have been loking and found quiet a few forums with very nice profile layouts with more then one page.
This on i found shows who they are friends with, the members information ie posts, joined, avator etc messages from other members none private albums of the member from galary.
Then a page for profile ie name, age, dob, intrestes etc, heres a screen shot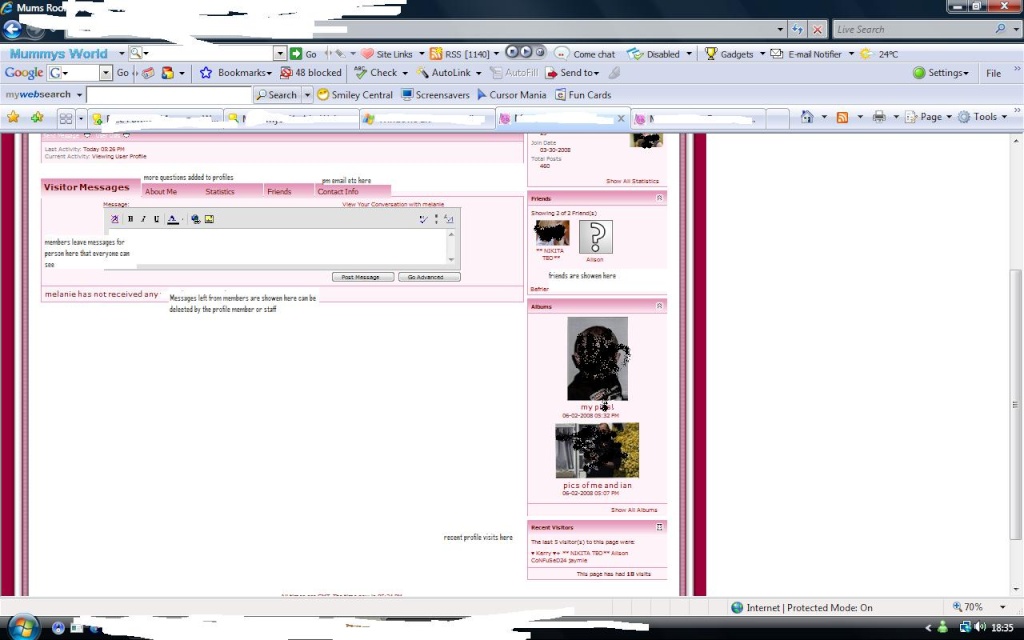 That's Vbulletin software....and the latest version 3.7.0. Sure is nice I agree, and I would vote "yes" for this, but I don't think it will happen. Even for myself, this isn't a huge deal breaker for me.


Proper link to the page would be better - img srv pic not good

Sorry
I wouldbut then it is adveritsing a forum tha isnt hosted through her plus you have to register to see it
@kylesmummy06

wrote:I wouldbut then it is adveritsing a forum tha isnt hosted through her plus you have to register to see it
Again,
The "example" you have provided is of VBulletin's software. I'm extremely well versed with this forum software and know exactly what it looks like. VBulletin's software is EXCELLENT, but it comes with a hefty price tag annually too. You have to buy their software and then install it on purchased server space in order for it to work as it should. This can cost a lot of money year to year and depending on the size/bandwidth of your forum.
I've found for the most part, that Forumotion's Free forums offer most of the features and functions that top quality forums offer and it is provided for free. Recently, I've had some ill feelings about the stability of the free forums here but apparently, some faulty servers have been replaced and I'm reaping the rewards (thus far) from this upgrade.

I've also checked out several other free hosting companies and even BEFORE I joined Forumotion. I have found that this hosting site offers the best features and functions that allows everyone to build and create wonderful forums. As you've seen, they have a suggestion section to bring up things that we would like on our free forums -which is GREAT too. At least they allow us the opportunity to make the suggestions we have and even though "most" aren't utilized.


Now that my forum is working as it should and with no major "down times" for unknown reasons, I'm happy once again with my forum and all the features it has.

Last edited by Brad38 on July 19th 2008, 8:57 am; edited 2 times in total

vs tyrant

New

Member




Posts

: 13


Reputation :

0


Language

: english



Suggestion Clean up

-> Old suggestions(Please feel to create a new thread for the garbaged old suggestions)
-> Implemented suggestions
-> Suggestion which are currently suggested (Please use the SEARCH function)
-> Unclear Suggestions

Locked & Garbaged


---

Jophy

Jophy

Forum

Guru






Posts

: 17924


Reputation :

835


Language

: English


Location

: Somewhere



---
Permissions in this forum:
You
cannot
reply to topics in this forum