Should programming be added to maintain the layout as Forum widgets are added ?
The additions of Widgets to the forum was a good idea. It appears that many have entered request for the ability to alter widgets, dependent on the page they appear on which is also a good idea.
My request is I think important, much simpler and I feel should have been a part of the process of adding widgets to the forum at the outset. As all are aware the typical upper border of the forum makes an even line at this place:
___________________________________________________________________
You last visited on Mon Oct 13, 2008 3:51 pm ...........View posts since last visit
The time now is Mon Oct 13, 2008 4:24 pm.............................View your posts
Merlin333 Poker Forum................................................View unanswered posts
__________________________*__________________________________________
With the addition of a column or columns this line is no longer even as the columns \"ride up\" above the line with the * above AND the text data above does not automatically move out to the new far left border created by the addition of columns to contain the widgets. It makes the forum look very poorly planned and visually unpleasing - here is an example:
ps. in this example the left column is \"pushed down\" by margin-top:50px coding otherwise it would go up to the red line in the graphic.
This, in my view, is what should automatically happen E.G. The last visited, time now, forum name title block should move to the far border and maintain the upper line of the forum.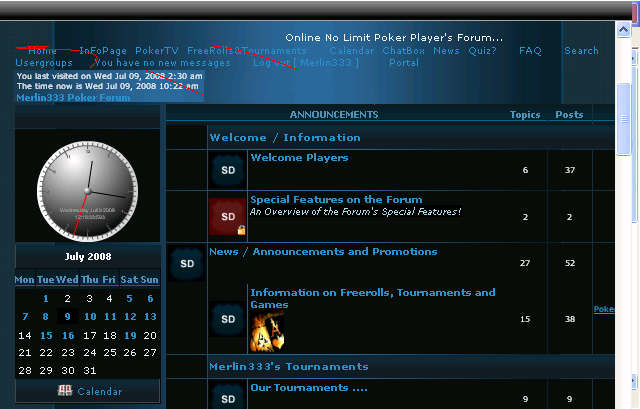 If the forum is programmed this way those who like the way it is now can easily adjust it by placing CSS margins to adjust it as they like. The current setup leaves us with no option. SUNNY D showed me (thanks again) how to program the CSS to alter the border - I think this should be included in the original programming - after all, that is the way it is originally designed.
Thanks
Merlin333
Last edited by Merlin333 on October 14th 2008, 12:09 am; edited 4 times in total

Guest

Guest






Jophy

Forum

Guru






Posts

: 17924


Reputation :

835


Language

: English


Location

: Somewhere



---
Permissions in this forum:
You
cannot
reply to topics in this forum