Well i got a email 2 days agosaying they tried to join and put there d/o/b in and it said the site does not let anyone over 99 join when they put 1986???
So i clicked it as non obligary and it asks for it and still says they are over 99 !!!
And setting it to admin also asks them for it help
Im losing members and m really not happy noww!!!
www.mummysworld.net
and
www.chatjunkeis.net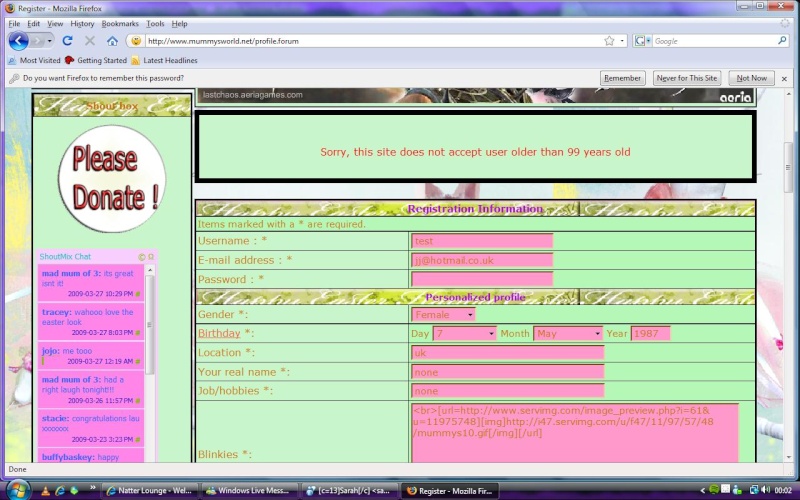 Please can someone reply to this? i am losing members on both sites because of this
sorry but this problem can not be sorted till Monday when the technicians come on and sort it, you will have to wait till Monday.
It you got yto Admin panel then Users and Groups then User otpions then go to to where it says Maximum age then type in as much 9's as you can then it excepts users this is because:

You can't make your birthday B.C. so the oldest you can be is 2009 years old no mater what you put in and your max age is about 32000 so it lets new members join

You can thank me for this temporary solution
works for me the solution for a little while


csholy

New

Member




Posts

: 3


Reputation :

0


Language

: Dutch/English



Thankyou i have set it to 300 on both sites didnt know i could change it its letting people join who are 20-25 now and not saying they are over 99
Can this be moved to techs??? iv set my max age to 300 so now people
Make birthday, not obligatory for registration
Users & groups > profiles
Modify for birthday
Obligatory: Make it no.

Hope it helps.

Sanket

Forum

Guru






Posts

: 48766


Reputation :

2829


Language

: English


Location

: Mumbai



---
Permissions in this forum:
You
cannot
reply to topics in this forum