How to make other levels ?
I know that we have admin , Moderator and a member
I wanna make a co-admin with diffrent color or any thing else ...etc
Can I make a modertor can ban members and others cant ?
thats all my questions for now
U can set this up as a new rank:
Admin control panel >> User Admin & Group Admin >> Ranks >> Add New Rank

Then from there set it as a special rank and u can then decide to give it special permission etc. (you used to be able to give it a colour, but thats on the old version of the admin control panel).

Hope i made sense, good luck.
I know all of that I say when he/she is online be with a diffrent color than moderators , admins & normal users


and second Question ... ?
i gave a person a colour by putting them in groups and giving a group a specific colour.

And your second question: i'm not sure if u can give mods that permission.
first question : how can I do that ?

Second question : u can give mods that permission but , my question is that Can I give it to mods and dont give it to others
hello,
please change your title to an explicit one related to your problem!
Why do we ask you to use explicit titles?

I post this message to give some precision about this, because it seems that some people don't understand this rule.

The forum's search engine base its research on keywords found in topic titles.

When you do a research, do you use "help", "urgent", "problem", "SOS" or "question" as keywords to look for topics about your problem/question?

Certainly not! So this is why it is important to use titles related to your problem/question. Doing this makes the researches much easier for visitors who use the search engine to get an answer to their question.

Thanks for your comprehension.

Cordially
Editboard Staff

The Godfather

Admin

istrator





Posts

: 4883


Reputation :

824



first u didnt answer me
u could answer me with this tip
and about my title I see that its related to my problem
cuz I have questions need to unswer
another question
how to make users information with any color
I can do the rank title but the rest of his/her information
How can I do it ?
like that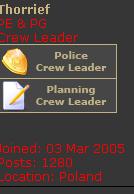 Does we have
"Extend rank color managment"
ok
AFUNA
, you didn't change your title...so
i'm locking this topic!!
you can open a new one respecting forumotion rules...!!

The Godfather

Admin

istrator





Posts

: 4883


Reputation :

824



---
Permissions in this forum:
You
cannot
reply to topics in this forum