Pokemon Final Legendaries Clan
Choice of Category:
Games
Language:
English
Forum's Purpose:
The forum was created so members of the clan could discuse things about pokemon indigo.
Link:
http://final-legendaries.forumotion.com
Administrators:
FlamingToaster, MewtwoMaster
Moderators:
GiratinaMaster
MIT's:
Undefeatedpure, Elitehackers and Greyly
Graphic Designers:
MewtwoMaster, Squirtle
Categories:
Pokemon Final Legendaries Clan

Announcements and updates

Introduce Yourself

Guest Forum

PokeShop


Refill Warning Bar


Custom Ranks


Legenary pokemon on Indigo


Legenary pokemon on Vortex


Legenary pokemon on Lake

Staff Hangout (only visible to staff)
Pokemon Indigo

General Discussion


General PWO Discussion


General Indigo Discussion


General Pokemon Vortex Discussion


General Pokemon Lake Discussion

Trading Center


PWO Trading Center


Indigo Trading Center


Pokemon Vortex Trading Center


Pokemon Lake Trading Center

Missions


PWO Missions


Indigo Missions


Pokemon Vortex Missions


Pokemon Lake Missions

Guides


PWO Guides


Indigo Guides


Pokemon Vortex Guides


Pokemon Lake Guides
Pokemon Teams

The Shadow Warriors

The Destroyers

Pokemon Field Rangers
Off Topics

Post Anything

Forum Games

Artwork

Basket
Statistics:
Forum Overview: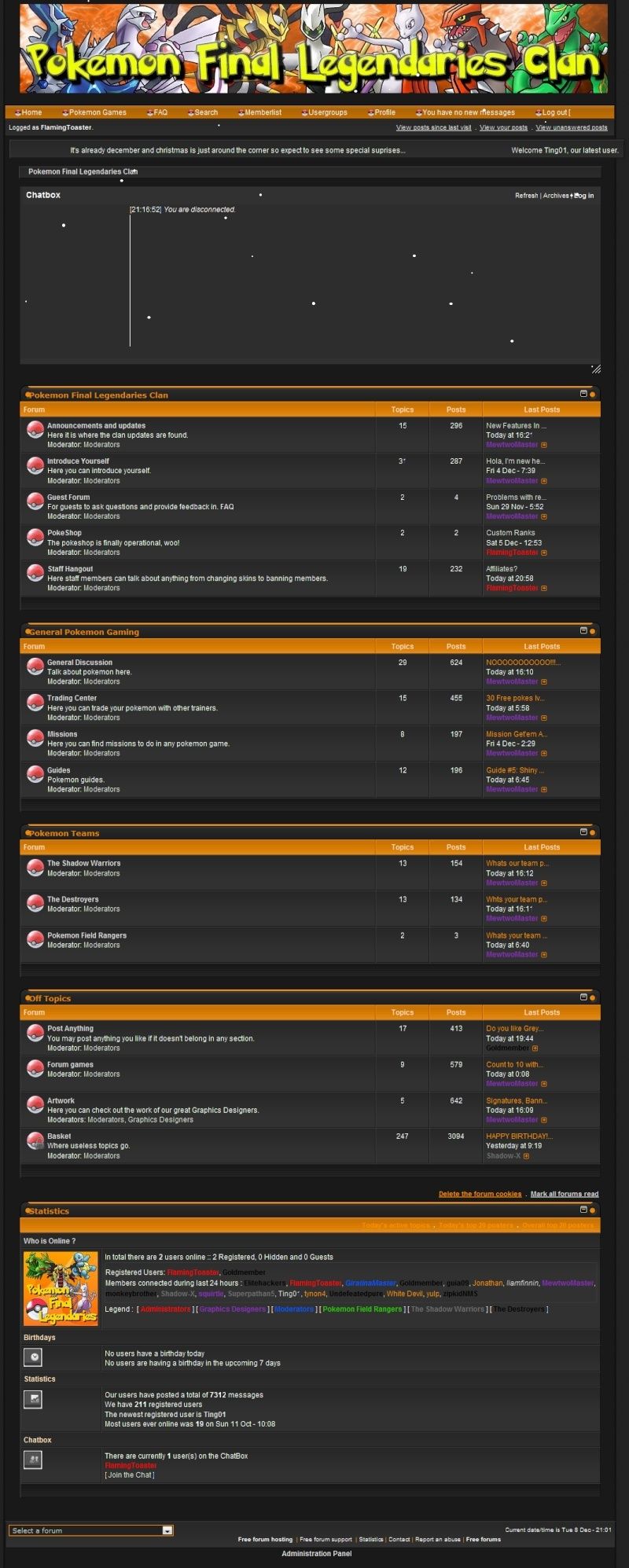 Last edited by FlamingToaster on January 11th 2010, 6:18 am; edited 3 times in total
Sadly our other admin resigned from his position due to religious beliefs.
Although we would like to congratulate our 2 new mods; Undefeatedpure and Elitehackers.
http://final-legendaries.forumotion.com/
---
Permissions in this forum:
You
cannot
reply to topics in this forum