Hi everyone! This is my first post here, so please tell me if I'm posting to the wrong place... I tried searching for answers to my problems, but nothing came up, so I thought I'd start a new topic.
I noticed that when a user is online in my forum, their avatar overlaps the online status banner (I'm not sure what that's called). The online status banner is supposed to be diagonal across the top right corner of the avatar, but instead only the edges are visible peeking out from behind the avatar. The smaller the avatar is, the more of the online status banner can be seen. All the avatars are within the maximum width and height, by the way. This is not a custom status banner I added myself because it came with the template I'm using, and I haven't tweaked with the coding or anything...
Besides that, I am using one of the default rank images provided in the Admin CP, where it looks very clear and nice. But on the forum, it is very blurry instead!
Here's two screenshots of what I mean: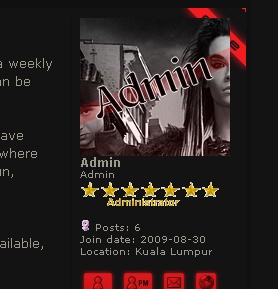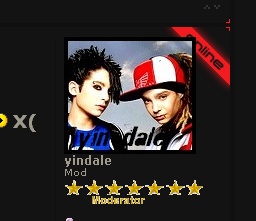 And the rank images are supposed to look like this:
I have no idea what caused these problems or how they may be fixed, so I'd really appreciate it if somebody could please help me with these! I'm using phpBB.
Thanks so much!
Fo

rumember






Posts

: 26


Reputation :

0


Language

: English


Location

: KL



Hello,

The rank images looks blurry because you have dark background. These image would look better on a light background color.

About online image,
he online image is basically added as a background-image so it cannot be shown in front of avatar. You can limit the width of the avatar images so that the online image appears clearly.
To do that go to Admin CP > Display > Avatar Gallery > Personal Avatars > Reduce the maximum size and save.
Ener

getic






Posts

: 5198


Reputation :

129


Language

: English, XHTML, CSS, JS, PHP, SQL



Oh you're right! It seems so obvious now... how embarrassing.
Thanks so much, ankillien.
Fo

rumember






Posts

: 26


Reputation :

0


Language

: English


Location

: KL



Since this thread appears to be solved, I will lock this thread and mark it as solved.



Sanket
Forum

Guru






Posts

: 48766


Reputation :

2830


Language

: English


Location

: Mumbai



---
Permissions in this forum:
You
cannot
reply to topics in this forum