CM Punk

New

Member




Posts

: 13


Reputation :

0


Language

: indonesia




CM Punk

New

Member




Posts

: 13


Reputation :

0


Language

: indonesia



Go to

Users & Groups > Search User > and then Search, after it Click the Manage User button and then go to Special admin-only fields and then change the Rank Title there and then save! ^^

johnerick-019

Foru

member






Posts

: 59


Reputation :

0


Language

: English



i still dont understand... please give the print screen..so I quickly understood

CM Punk

New

Member




Posts

: 13


Reputation :

0


Language

: indonesia



@CM Punk

wrote:i still dont understand... please give the print screen..so I quickly understood
Go to your Admin. Panel. Click "Users & Groups"
THEN click "Rank Administration"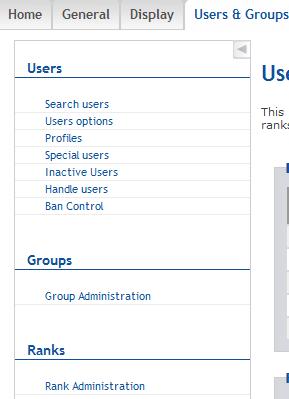 Then click "add new rank":

This screen will appear: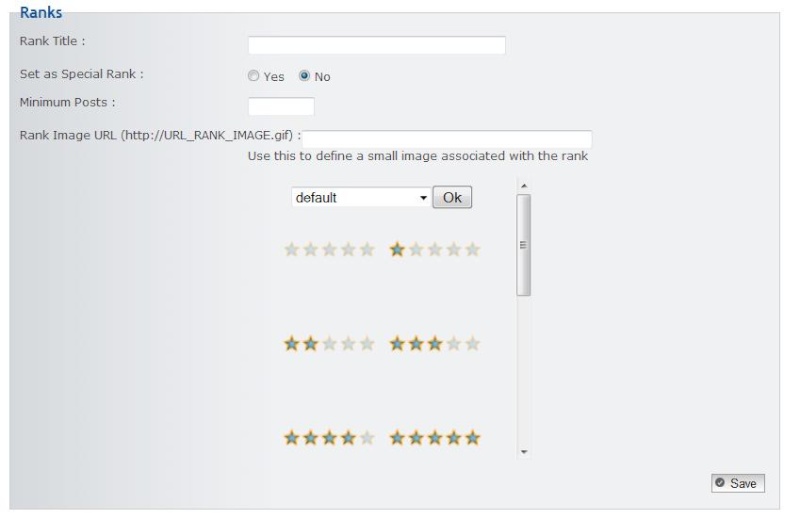 Here, you create the rank, setting a post count (or not) in order to gain the rank, set an image for the rank etc.
THEN you go to whomever you'd like to be given that rank's Profile, (provided you haven't set a post count in order to attain the rank) on your Admin. Panel, and scroll to the bottom of it and you'll see this:

Click the "No Special Rank Assigned" drop down, and select the rank you'd like this member to have.

omganotherforum

Foru

member






Posts

: 99


Reputation :

0


Language

: english


Location

: Milwaukee Wi.



how to creat new rank image, not default image

paly_npoc

New

Member




Posts

: 21


Reputation :

0


Language

: english



Have followed all the above instructions to be able to give one of my members a special rank title, but all that happens is that a red error message comes up, saying "The password you entered did not match." I hadn't entered a password as this is up at the top section of the members profile &, I assume, it is their password not mine. The section says it is only for changing the password anyway.
I, vaguely, remember having similar problems in giving another member a moderator title but cannot, now, remember how I overcame that glitch.

Can anyone point me in the right direction, please??

EDIT: Did manage to find out how to accomplish this, by doing another search.
The answer is simple apparently. You just remove the passwords asterisks before you put in the new special rank.

---
Permissions in this forum:
You
cannot
reply to topics in this forum