http://forumrescue.forumotion.com/
Created to help all forum users. Forum Rescue is the forum where all questions will be
answered! Come on down and ask anything related to forums!
The forum was started only yesterday,
28 March 2010!
This is only the beginning! Join us and discuss or ask anything related to forums! Still not enough? How about request for some of our packages and advertise too?
Forum Rescue (FR) specializes in helping FORUMOTION forum users. If you use other forum hosts, we will still provide help;)
As a new forum, we urgently need staff!
-Graphic Designers
-Packagers
If you're interested in any of the positions listed above, please PM me.
We are certainly helpful! Until today, every single question/problem has been answered and solved! Nothing is too hard of us! So come on down and take a look! You wont regret;)
Hello! We now have the warning bars added to FR! To keep a track of
your behaviour in this forum, we introduced the warning bar system to
FR;) The warning bars was created by Matei.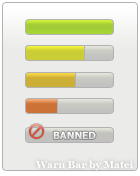 Thanks,
The FR Team
Martin has been added to the Admins team! Join today!
---
Permissions in this forum:
You
cannot
reply to topics in this forum