Hi,

Im wondering if anyone can tell me how to get rid of your profile picture, whose online and top posters information, from the forum home page, and can it be put on to the portal, doesn't matter if not, just don't really want it on the forum home page.

Thank you
Last edited by Jen7 on June 24th 2010, 10:31 pm; edited 1 time in total
well i dont see the top posters on your home page,only in the portal?
you can always remove that widget if you want from the portal and widgets.
Admin panel>Modules>portal>portal structure>
then in your widgets if you want to remove it there too. but that will only show if you were to have you widgets show through the whole forum which you do not right now.
As far as the who's online icon.. that can be removed from your pic's management.
Admin panel<display>pics management>advanced mode>mini icons.
Just scroll through the list and remove both online and off line icons
Now for the Avatar/profile pic.
I do not see any options to disallow avatars.. all you can do is go through all the members and remove there avatars via admin panel or members list by clicking there name>then administrate profile.
So you would simply delete there avatar.
then you can adjust the avatar size to 0 x 0 this will not allow anyone to upload them.. but by doing this you may get a lot of messages from members asking why they can not upload there Avie's. so if you do this i would make a sticky or announcement for members to know.
To adjust the size go to.
Admin panel>display>Avatar gallery>personal avatars>Personal gallery
then adjust the size there.. you can also check all the other options there to.
be sure to hit save after doing every task


kirk

Foru

master






Posts

: 11037


Reputation :

653


Language

: English,Vulcan,Klingon, Romulan,& Gorn



Hi,
I'm not sure which forum you've seen?
This is what the forum looks like - And the boxes in the black box is what i don't want on the forum home page if possible. I don't want to stop my members having a profile pic/avatar. On my old forum the avatars weren't on the home page.. See pic below (Nic&JensDen)
Thanks in advance!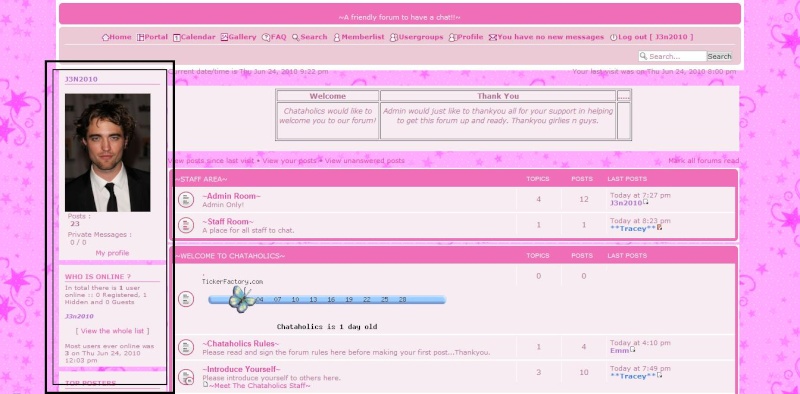 Im such a donut! I've sorted it, thanks again!
Since this thread is marked solved, I will lock this thread.



Sanket

---
Permissions in this forum:
You
cannot
reply to topics in this forum