hi.
the forum:
http://ets-clan.ace.st/
is broken with internet explorer (yesterday all was ok)
with fire fox it sill looks good.
hope you can help me.
thanks.
lottoleppi

Guest

Guest





Internet Explorer
Fire Fox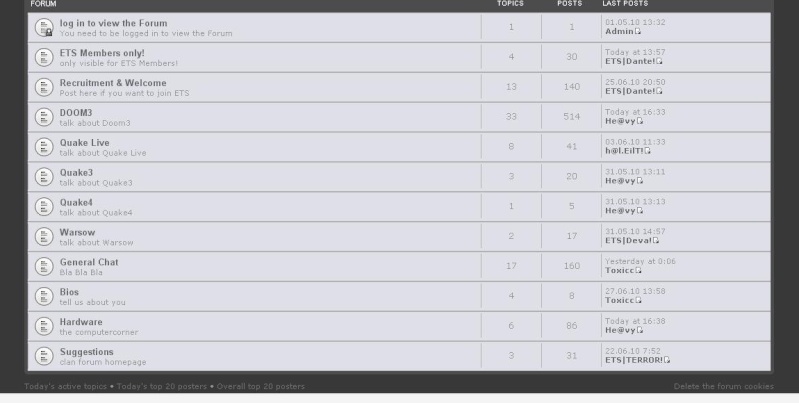 Guest

Guest





Did you add any code after which this problem started occurring? If yes, then delete that code.
i just change the visible rules. i make the forum visible for guest not just for reg. users.
that all i did


Guest

Guest





btw. i dont know how to add or delte a "code"??

Guest

Guest





May I remind you that double/triple posting isn't tolerated unless separated by 24 hours (Use the edit button)

Check the forum descriptions on your forum. There looks like some crappy code in between.
the setting
General;Configuration;Site description * :
is empty. if i write something in the problem stays.
ok will use the edit button next time


Guest

Guest





Not Site descriptions. I was talking about descriptions you write in individual forum.
ok thanks we are on the right way.

if i move the forum Doom3 down the error moves with.


but i dont find a mistake in the descriptions of that forum.

Guest

Guest





Just delete that forum & recreate a new one.
ok the problem is done.
you will never believe what it was.
there was a topic in the forum Doom3 with the word "exesive" in the headline.
(the last post was in these threat)
i just delte now the " " and all is good.
very strange.
thank you for the quick help.
@Sanket

wrote:Just delete that forum & recreate a new one.
that would not be possible. its the bigest forum in the forum with 514 messages

Guest

Guest





Since this thread appears to be solved, I will lock this thread and mark it as solved.



Sanket

---
Permissions in this forum:
You
cannot
reply to topics in this forum