Hi,
I'm having a problem with my login and register page. It appears that the font is the same color as the background. I'd like to change one of the other so they are easier to read. How would I do this?
If you need to see for yourself, here's the link..
http://thephilalethesociety.ezboards.co.uk/login.forum?connexion
Any help would be appreciated!
Thanks!
I think the only way of fixing this is changing the font color on the whole forum...I may be wrong, though.

AP > Display > Colors > Text Color
Fo

rumember






Posts

: 39


Reputation :

0


Language

: English



Foru

member






Posts

: 866


Reputation :

11


Language

: English


Location

: England



Hi,

I'm sorry. I'm a little familiar with html but not enough to confidently change something and I have no idea what CSS is hence the reason I didn't create my own template.

I'm willing to change the font color of the whole forum I'm just not sure which line in the advanced screen will do that. I looked up html color codes and can't find some of them.

Sorry for being html and css illiterate.

Again any help is appreciated.. could you just put it in the html or css for dummies lingo?

Thanks again!
I'm also inexperienced with CSS. But to change the font of the whole forum without CSS knowledge, go to the Admin Panel, click on the Display tab, and then go down and click 'Colors'. This is what it looks like on my forum: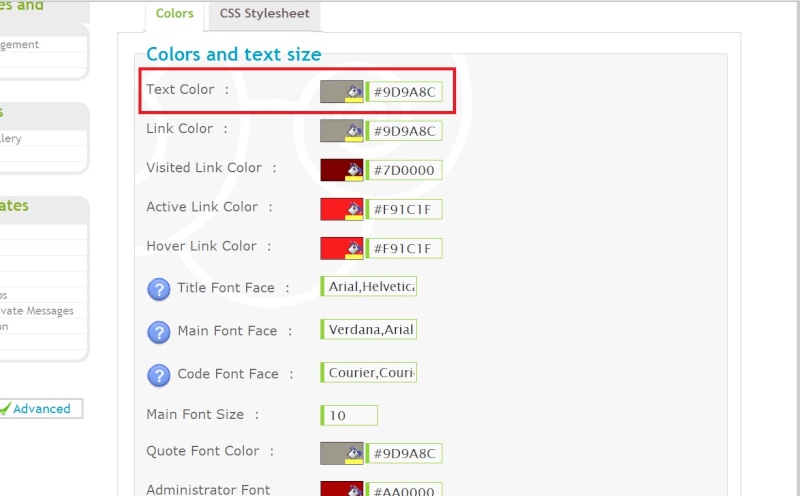 Change the color within the red box to change the font color (excluding links) on the whole forum. Click on the paint bucket, and a box should pop up, letting you select every possible color.
If you like the current gray font, just darken the color a little bit by sliding the arrow on the right of the popup box up or down.
Fo

rumember






Posts

: 39


Reputation :

0


Language

: English



Why dont you apply a new sk!n ?
Fo

rumember






Posts

: 42


Reputation :

0


Language

: english



Thank you for the advice.

After Warhawk's first post I did try to change the font. It didn't work, it would change the font of the posts but not the log in screen. I tried again today and changed the skin on the advice of Sanket.. that didn't work either.

I figured I would just play around and perhaps figure it out but when I went to create an avatar, that page is all white as well. It's not affecting just the log in screen but everything "extra". I'm really not sure what to do now. If there was a way to change all the white backgrounds to black everything could be seen. But I'm beginning to think this isn't my issue.

I went through all the colors in the color screen and changed everything that was white to black and nothing changed in regards to the profile, member or log in page. I looked for anything that was yellow in color because that isn't very visible either, but there is nothing yellow that I can change. So I'm now at a loss.
Similar topics
---
Permissions in this forum:
You
cannot
reply to topics in this forum