Hello Graphic designers!
My forum has been under construction for about 2 weeks now, and i finally got my 4in1 column just they way i like it.Problem is, i have no graphics to represent the forum link/topic. Right now i only have a few pictures from ego-one.com as forum pictures for all my pictures.
4in1 catagory pictures:
(From the 4in1 tutorial)
Size (In Pixels):
70x70
With or Without Animation:
without animation (or if any it would be any hover over effect but i thinks thats html/css based

)
Main Colors:
Anything will be good, use your imagination
Pictures & Links:
(sorry for using anothers sites buttons, but i didn't have any

these are temporary, but are kinda of what im looking for.
http://cdn.ego-one.com/news.png
http://cdn.ego-one.com/freebees.png
http://cdn.ego-one.com/intro.png
http://cdn.ego-one.com/general.png
Text to Insert :
none
Font (Provide Download Link):
none
Font Color:
none
Link to My Forumotion Forum:
ftbgaming.tk or
http://ftb3.forumotion.com
Extra Comments:
Links are just examples of image size and sorta of a look im hoping for, please help me out if you can

Note: This is a psp related site, mostly focusing on Ftb3.(a game)
No need to relate pictures to this topic, just giving you an idea of what my site's about.
Name and Topics of Forums:
Site H.Q.
Affiliate
Introduction
Applications
Codes
Competitions
Request
Database's
V.I.P.
Clans
prx's
graphics
Emulators
psp
Homebrew
tutorials
chat
other
Look of Current 4in1 Catagories.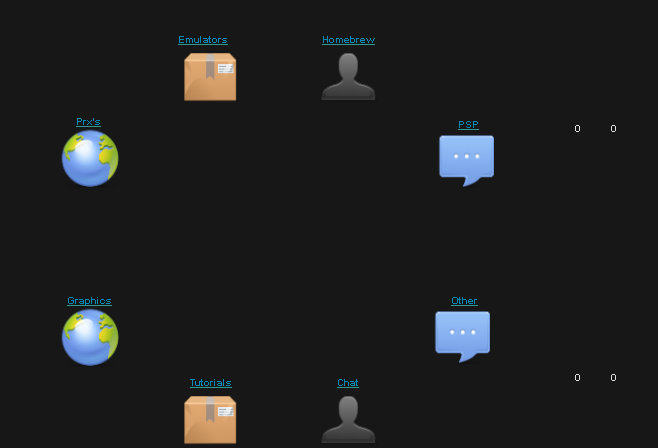 Mr-_-Insano

New

Member




Posts

: 17


Reputation :

0


Language

: Englilsh



---
Permissions in this forum:
You
cannot
reply to topics in this forum