1* can i have this like button in every first post in my threads?
2* this like box i have made...
i cannot put it in a widget... i doesnt display it just show the code...
...but if i put it in a post preview like the pic above,it looks great!!!
i have html enable on the settings
any help would be perfect!!!!!
hi,
1- i don't know
2-
1st : Create an application page for your forum on face book
2nd : go to Get started tab >>> Promote this Page on your website >>> click on "Add Like Box"
3rd : Follow this image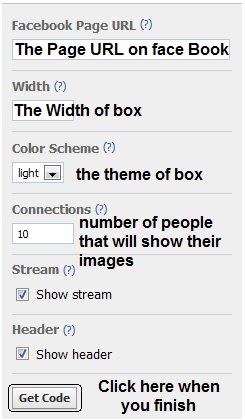 4th : you will found this box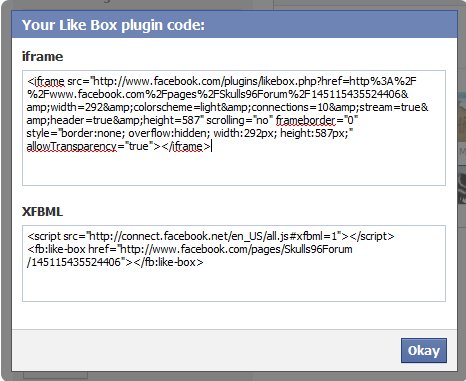 copy the first code and go to your forum
5th : go to : Administration Panel >>> Advanced mode >>> Modules >>> Forum widgets management >>> Create a new Widget
paste the code there , like this image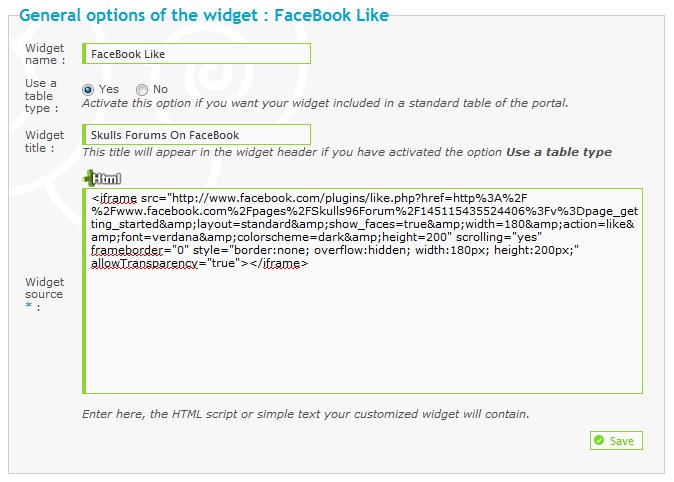 7th : drag the widget to Forum widgets
done
hope to help you , ArChKnIgHt
Foru

me

mber






Posts

: 134


Reputation :

-1


Language

: Arabic | English | French | CSS | HTML | JS


Location

: Egypt



firts of all thank you very much
I have already done EXACTLY everything you have write for me but thiw is what i get in the widget...
but in a post preview it works!
i have the html enable in both ways,,,

... can someone explain to me why only in post is working(showing the like box), and not in the widget?
Why the Facebook work marked with read? do you any word censor or something?

Guest

Guest





i dont know.....
for that reason i have made a new like box and i still get the code showing, and not the box, in the widget...
and the same code in post preview it looks fine....
Content removed and member banned. - LH Justin
New

Member




Posts

: 4


Reputation :

0


Language

: English



When you go to paste code in widget box click on a/A image in right corner and then paste code after it. I had same problem like you and it worked when I switched the view.
New

Member




Posts

: 1


Reputation :

0


Language

: Croatian



---
Permissions in this forum:
You
cannot
reply to topics in this forum