When adding a facebook widget to my forum it is entirely too large to see all the words. I have increased the pixels of the widgets to show the whole message but, it is then waaay too large. Is there a way to align the text to so that all of it shows without having to resize the widget. Refer to the image below for an example.
hi,
if you try to edit the code of widget you will find
Code:

width:180px; height:200px;"
in the code try to edit them
hope that helps , ArChKnIgHt

Thanks for the reply. The only code is as that below. I just do not know html..lol.

<script src="https://connect.facebook.net/en_US/all.js#xfbml=1"></script><fb:like-box href="https://www.facebook.com/platform"></fb:like-box>
i think u should get it from face book
by this way
1st : Create an application page for your forum on face book
2nd : go to Get started tab >>> Promote this Page on your website >>> click on "Add Like Box"
3rd : Follow this image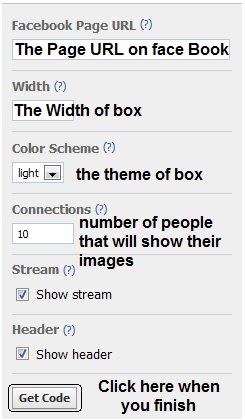 4th : you will found this box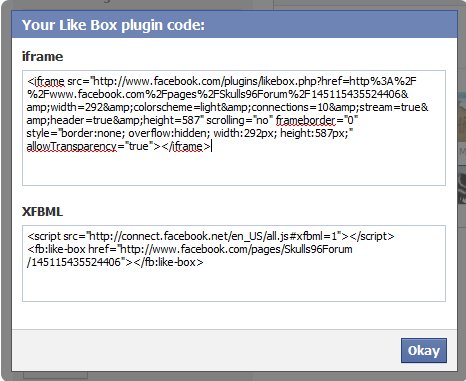 copy the first code and go to your forum
5th : go to : Administration Panel >>> Advanced mode >>> Modules >>> Forum widgets management >>> Create a new Widget
paste the code there , like this image
Enlarge this image
Reduce this image
Click to see fullsize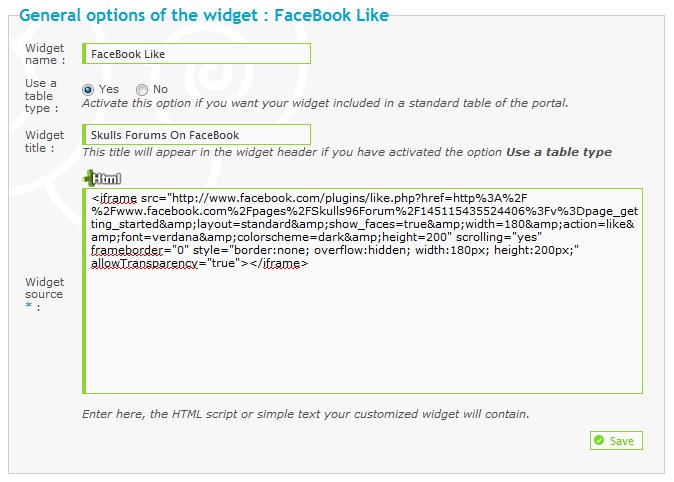 7th : drag the widget to Forum widgets
done
then you will find the code
Thanks again for the reply. I was using the wrong code before but, even using the proper code I am not having any luck. It did make the widget smaller but, the text is still not completely visible. Any more ideas?

Edit: Ok. partly solved and partly still in the blind..lol. I was able to align the text within the widget by using <div align="justified"> at the beginning of the text and </div> at the end of the text.

The only problem now is finding the correct "Follow Us On Facebook" button. The one I was attempting to use is not the one I really wanted. I suppose I can find that though. Thanks again for all your help.

Joel
---
Permissions in this forum:
You
cannot
reply to topics in this forum