The Cheesecake Club
Category: Family & Society
Language: English
Forum's Purpose: We are a support forum for Moms, Step-Moms, Moms-to-be, Want-to-be Moms, friends, Wives, girlfriends, sisters, cousins, Aunts, Babysitters, caregivers, etc. We offer support, advice, a place to vent, laugh, cry, and anything else in between. And best of all, we're drama-free.
Link:
http://thecheesecakeclub.net
Administrators: Hillary, Bree
Global Moderators: Courtenay
Graphic Designer: Bonnie
Who are we, you ask?
TCC (that's us!) is a private, mostly-female board with one male member. We have members who are (but not limited to!) pregnant, married, and/or single.
We're really just a tight knit group of friends, (and in some case sisters, cousins, SIL's...) who will help you, chat with you, laugh with you, cry with you, and laugh with you some more.
It's a place to chat about whatever, post your pictures, joke around, or seek advice. We don't want you to feel discouraged, or make it feel like you have to defend yourself. We want you to be comfortable. After all, we're a family here.
In a nut shell, we're your sister, cousin, and crazy aunt all balled in to one. No two persons are alike (well, except for the twins, but that's just looks).
There is always someone to relate to, whether you're:
    ~single, married, or engaged.
    ~Have kids, trying to conceive, or trying not to.
    ~Christian, Wiccan, Bhuddist, or Atheist.
    ~Canadian, American, Japanese, or British.
    ~Military Wives, students, Full-time workers, or stay at home moms.
    And so on!
Loose lips sink ships!
Generally, you must know a member of the forum to be considered to become a new member. If you do not know any members, but you still wish to join, then send me (hillary.reist@gmail.com) or Bree (breerocks@gmail.com), and we will consider adding you to our facebook group after we get to know you.
We're always welcoming new friends to our forum! Mi casa es su casa!
Most of the forums are accessible to new members. Once you're a full fledged member you'll be able to have access to the rest of the forums.
To New Members, you are unable to access the Voting Polls, Personal Relationship Forum, or the Announcements Forum, because there are extremely personal information in these areas, and Full-fledged Members would like to get to know you more and learn to trust you more before showing you such important information.
If a friend of yours thinks you are a good fit for our little family, then the members will hold a little vote to see if they want you in.
You will be invited to join our Facebook group "A Real Mommy Forum" to see how well you post, and see if you will enjoy posting.
Afterward, your membership will be voted on again on whether or not you will become an official member at TCC.
When you're accepted, your account will be activated and you can come join the madness in our little corner of the labyrinth that we call the internet!
Also, let your friend know what your username is so that we can make sure you get approved and not someone else lol.
Just a few things you should know...
1.)
Loose lips sink ships:
Personal information like full names, addresses (mailing or email), images, videos posts, or private messages made on TCC or on A Real Mommy Forum aren't allowed to be disclosed to
anyone
other than full-fledged members. After all, loose lips sink ships. It ruins the trust within our family and we want to stay trusting. Doing so will provoke a forum ban.
2.)
You say Tomayto, I say Tomahto:
While everybody is entitled to an opinion on the board, talking smack, or otherwise making a user feel really really bad about themselves is definitely against the rules. "Do unto others as you would have them do unto you". Doing so will provoke a forum ban (temporary or permanently, depending on the severity).
3.)
Hear No Evil, Speak No Evil, See No Evil:
Particularity obscene imagery isn't exactly wanted on our forums. Showing off a little lingerie or something like that is alright in small doses, but porn, violence, gore, or anything to that extent will be deleted and could result in a ban. If you aren't sure what constitutes as obscene, contact one of our Staff Members, Hillary or Bree (our Admins) or Courtenay (our Mod).
4.)
Save the spam for the can.
We will delete it, warn you, and if it happens again, could provoke a ban.
5.)
Save the Drama for your Mama.
Excessive Drama is
NOT ALLOWED
. Exciting information is, by all means welcomed, but over-the-top drama posts will be locked and/or deleted.
This includes discussions of old forums, or information about other private forums
. This specifically will not be tolerated.
Interestingly enough...
We are mostly all female (though we don't always act like it) with one man, who is a preschool teacher.
We conceived our little corner of the internet October 21, 2010, but we are pretty bustling. We've got some real chatterboxes on the forums! A lot of us we've known for a while, but others are new friends that have been invited to join our family, and even some have managed to find us through the labyrinth we call the internet. Obviously we're just that magnetic.
Currently, most of our members are in their 20's, mostly between 23 and 27, but anyone 18 and older are allowed to join.
There are tons of topics to discuss. Some of them are General Chat, Pictures and Videos, Periods, Fertility and TTC, Pregnancy and Postpartum, Children and Parenting, Health and Wellness, Recipes, Romantic, Platonic and Family Relationships, Pets and Animals, and a Nerd Room and lots more!
So, what are you waiting for? If your friend has asked you to join, then they obviously think high enough of you to want you to join our little family/circle of friends/community/support group. Whatever you need us for, we're here for you.
:heart2: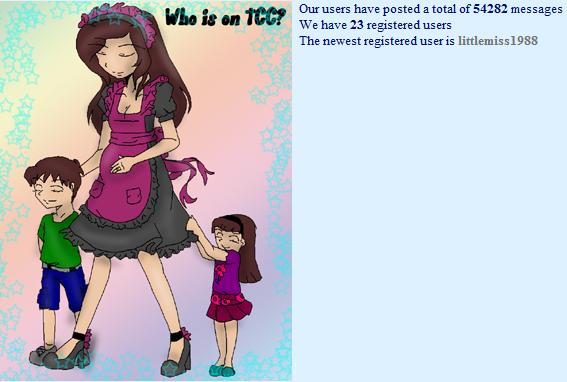 Last edited by Hillary.Reist on May 14th 2012, 11:45 pm; edited 1 time in total (Reason for editing : Updating Information)
Updated it a bit.
Since the domain name has expired, this topic will be sent to the garbage.


When your topic has been solved, ensure you mark the topic solved.
Never post your email in public.
Similar topics
---
Permissions in this forum:
You
cannot
reply to topics in this forum