Hello,
Well I did recently make a flash banner for my forum from flashvortex.com & after completion of flash banner, they gave two option
First , They provide a code which was :
<script src="http://h2.flashvortex.com/display.php?id=2_1299817082_8157_430_0_728_90_9_2_69" type="text/javascript"></script>
Second , They gave the download option . ( I have downloaded the banner )
I want to show that Flash Banner at the Homepage of my Forum ( On Announcement text box ) ..
I did copy & paste the code (
<script src="http://h2.flashvortex.com/display.php?id=2_1299817082_8157_430_0_728_90_9_2_69" type="text/javascript"></script>
) in Announcement section. But after saved when I visit my Forum, The Banner show only for 1-2 seconds & afterthat my Forum redirect to a page where only Flash Banner is being displayed...
So please tell me the right procedure to do this.
Thanks,
Keep Care !
C ya

Last edited by Nomee on March 11th 2011, 2:46 pm; edited 1 time in total

kirk

Foru

master






Posts

: 11037


Reputation :

653


Language

: English,Vulcan,Klingon, Romulan,& Gorn



I have uploaded to this flash host site but How would I make the banner to show on Homepage at the top of Homepage because when I go to Announcement option in General & want to put that URL in Flash Tags, I could not find Flash Tags option. So Kirk how could I put in Flash Tags or should I have to put in some where else ?
I want to put the banner anywhere in the area which i mention in Red Highlighted area .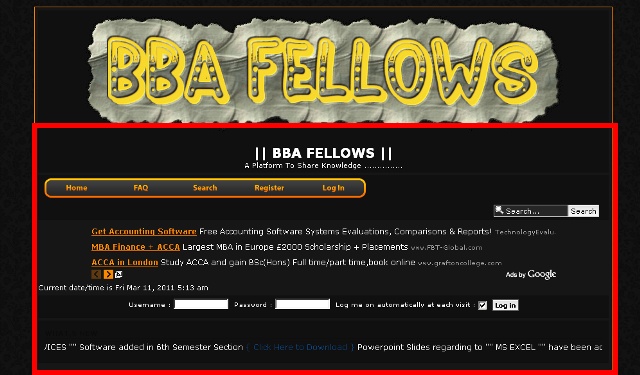 Thanks !
Do you have a url of it.
It should end in .swf
Well this is the url after uploading
http://megaswf.com/serve/1035732
Or
http://www.swfcabin.com/open/1299847576
but it doesn,t end with .swf

Its a place where you have uploaded.
Well you will need to do the following,
1) Register on a hosting site such as bravenet.com & then create a website there. You will need to then upload the swf file from your system. You will get a direct link then ending with .swf
2) Once you get this link ending with swf.
You can follow this tutorial.
https://help.forumotion.com/t124-logo-in-flash
Thank you very much Sanket

I have successfully done

Keep Care !
Solved
| | |
| --- | --- |
| | Since this thread has been marked as 'Solved', I will now lock this thread. |

Jophy

Forum

Guru






Posts

: 17924


Reputation :

835


Language

: English


Location

: Somewhere



---
Permissions in this forum:
You
cannot
reply to topics in this forum