How do you make it so these icons are maby 5 icons across instead of going vertically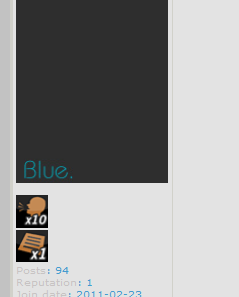 Hello,
May I have a link to your forum, please? Thanks.

www.creative-node.com
it's still in construction at the moment though and im the only one that i have put achievemtns for so far
I'm on your forum, but I don't seem to see anyone with these awards. Can you enable them for me to see, please?

Never mind, I can see them now.

You have to create multiple images yourself if you want them on one line.
As in, one image could be:
...but if you wanted more than one award then you'd need to create another image such as:
awww that sucks and is quite time consuming

r u sure there is no-other way?
thank you very much
You can try playing around with the "Separator" field in the settings. See if selecting different options will have a difference on it.

WORKS I LOVE YOU MAN!!!!!!!!!!!!

thank you so unbeilievably much dude.

-
Oh, I'm so glad that I managed to figure it out.

You're very welcome and I'm glad to be of your assistance.

MrMario

Help

er







Posts

: 22186


Reputation :

1838


Language

: test



---
Permissions in this forum:
You
cannot
reply to topics in this forum