Choice of the category:
Miscellaneous
Choice of a title:
Fomix
Forum address:
http://fomix.forumotion.net/
Main language:
English
Forum description:
Fomix is a site where you can submit your Forumotion Boards to our gallery. This will most likely gain you more traffic, and maybe some new friends.
The Fomix Categories are sorted by colors. There are 15 different color schemes, with many different forums in each.
To submit your Board to the Fomix Gallery, simply choose your color scheme, and click the Submit button.
If you open a board topic on Fomix, you will notice a wide variety of options. You can comment the post, or pass on the their Board -- all in one click.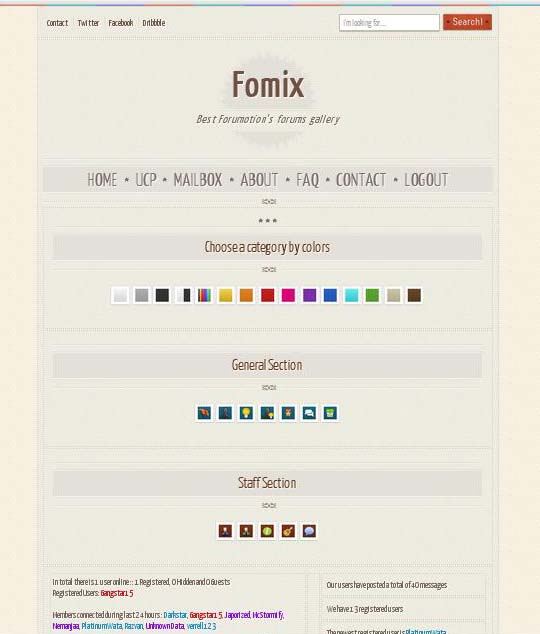 Last edited by Gangstar15 on May 2nd 2011, 10:58 am; edited 1 time in total

Fomix latest News & Updates


Hey all,
Just letting you know that we now have a General Section with some useful forum.

# Announcements
Announcements is a place where we post Fomix's News & Updates!

# Forum of the month (FOTM)
Each month we will give members the opportunity to enter their forums into our members Forum of the month competition. Winners will be awarded prizes, be featured in our winners section and also be entered into our Forum of the Year competition.

# Suggestions
IF you have any ideas or suggestions in your mind please post them in the suggestions section & help us improve Fomix more & more!

# Member's opinions
We have a sub forum called "Member's opinions", so we also need your opinions to know what you think about Fomix.

# Introductions
Please take a couple of minutes to introduce your self for us.


Fomix latest News & Updates



Hello all,
First of all i want to say that from now on we will have Weekly updates, so everything can know what happen or what will happen on Fomix.

# I am now accepting applications for staff. There is 3 position available. If you wish to be a staff here on Fomix please pick one of these two form and PM then to me.



Moderator:



Code:

[color=#AB391F][b]Experience:[/b]/color]
[color=#AB391F][b]Join Date:[/b][/color]
[color=#AB391F][b]Age:[/b][/color]
[color=#AB391F][b]Work Hours Per Day:[/b][/color]
[color=#AB391F][b]Description of Yourself:[/b][/color]
[color=#AB391F][b]Why You Should be a Moderator:[/b][/color]
---
News Writer:
Code:

[color=#AB391F][b]Experience:[/b]/color]
[color=#AB391F][b]Join Date:[/b][/color]
[color=#AB391F][b]Age:[/b][/color]
[color=#AB391F][b]Work Hours Per Day:[/b][/color]
[color=#AB391F][b]Description of Yourself:[/b][/color]
[color=#AB391F][b]Why You Should be a News Writer:[/b][/color]
---
Reviewer:
Code:

[color=#AB391F][b]Experience:[/b]/color]
[color=#AB391F][b]Join Date:[/b][/color]
[color=#AB391F][b]Age:[/b][/color]
[color=#AB391F][b]Work Hours Per Day:[/b][/color]
[color=#AB391F][b]Description of Yourself:[/b][/color]
[color=#AB391F][b]Why You Should be a Reviewer:[/b][/color]
---
Permissions in this forum:
You
cannot
reply to topics in this forum