1.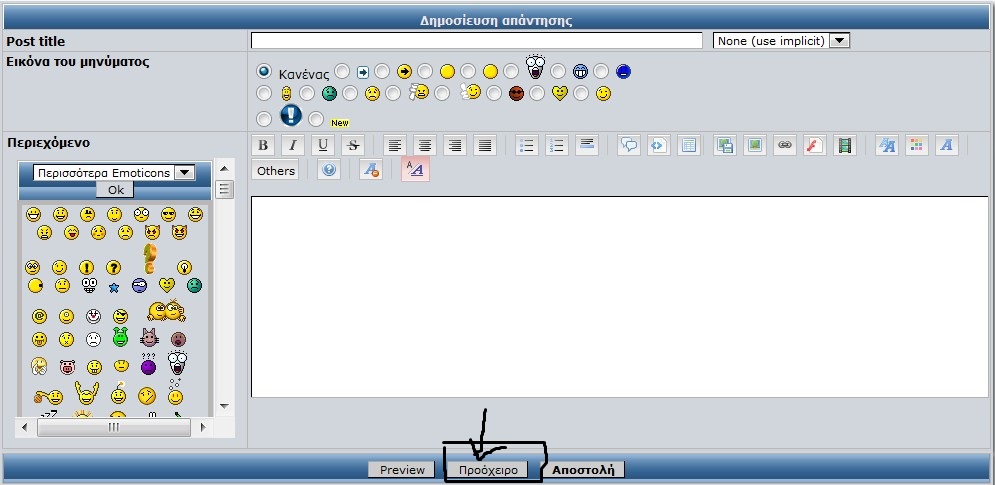 The correct spelling is
Ðñü÷åéñï
2.

The correct spelling is
åðßóêåøç
3.

The correct spelling is 1.
×ñÞóôåò ìå ãåíÝèëéá
2.
ãåíÝèëéá
This should be rectified!Thank you!I have phpBB2
what language is that ? greek..
i believe you can make the changes in a template edit, i will have to see which templates they are in. The first should be in posting body, but may have to be changed for reply and quick reply as well.

the others should be in the forums index body templates.

can you get a translate in English,then get screen shots and mark it out so i am sure what they are to locate them all in the appropriate templates.

kirk

Foru

master






Posts

: 11037


Reputation :

653


Language

: English,Vulcan,Klingon, Romulan,& Gorn



The language is greek.Can i solve this?
You won't be able to solve the problem within the forum. If you like you can help translate things that are bad in Greek by contacting Typlo for a translator account.
Since this thread appears to be solved, I will lock this thread and mark it as solved.

Jophy

Forum

Guru






Posts

: 17924


Reputation :

835


Language

: English


Location

: Somewhere



---
Permissions in this forum:
You
cannot
reply to topics in this forum