So Yea, I want to remove it but I somehow can't find a way. I don't wanna remove stuff @ the CSS because if something goes wrong, it'll give me a headache so I figured why not just ask.
I am using Invision, btw.
Any Help would be appreciated.

Last edited by Fearlesss 18 on May 16th 2011, 4:05 am; edited 1 time in total
Oh Sorry, That may have sounded stupid. I just didn't know what to call it...I'll just post a screenshot: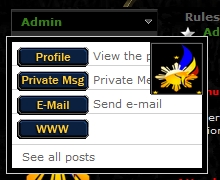 That Popup (or maybe I should've called it "Dropdown") Profile thingy.
Is there anyway to remove it?
Cool if yes, If no...It's alright.

))
No, I don't think there is any way.

!_NICK_!

Active

Poster






Posts

: 1505


Reputation :

69


Language

: English, HTML, and CSS


Location

: In the middle of no return.



i dont know what you mean i went to the link in your profile and dont see anything like that screen shot in your profile on that forum?
Where is this? can you post a link

kirk

Foru

master






Posts

: 11037


Reputation :

653


Language

: English,Vulcan,Klingon, Romulan,& Gorn



I just realized you can't see it as a guest, tried it myself. This is already giving me a headache, tried removing stuff @ CSS but it's still there. I Give up, Thanks for the Help anyways.

oh that you have to edit that in your templates or other wise you wont be able to move it

always have patience and your lucky that this thread wasnt locked or else i wouldnt have been able to help you out

Guest

Guest





Since this thread is marked solved, I will lock this thread.



Sanket

---
Permissions in this forum:
You
cannot
reply to topics in this forum