hello again its me wehoo i realy need your help with 2 problems beacuse im new here now what i need there is to ranks in my forum
Problem 1:
Administrators
ANd
Global Moderators
now i need from Global Moderators to edit every post of members Except of the Administrators post how i can do this helP!
what i need is Global Moderators can edit Global Moderators Posts and members poster but he can't edit Administrators posts
Problem 2:
its i need how to change the color of the reigster! when someone register there something like
Name*:
Passwrod:*
now how to change the color and how to change the setting of profile color here picture with red cirect to show you what i mean: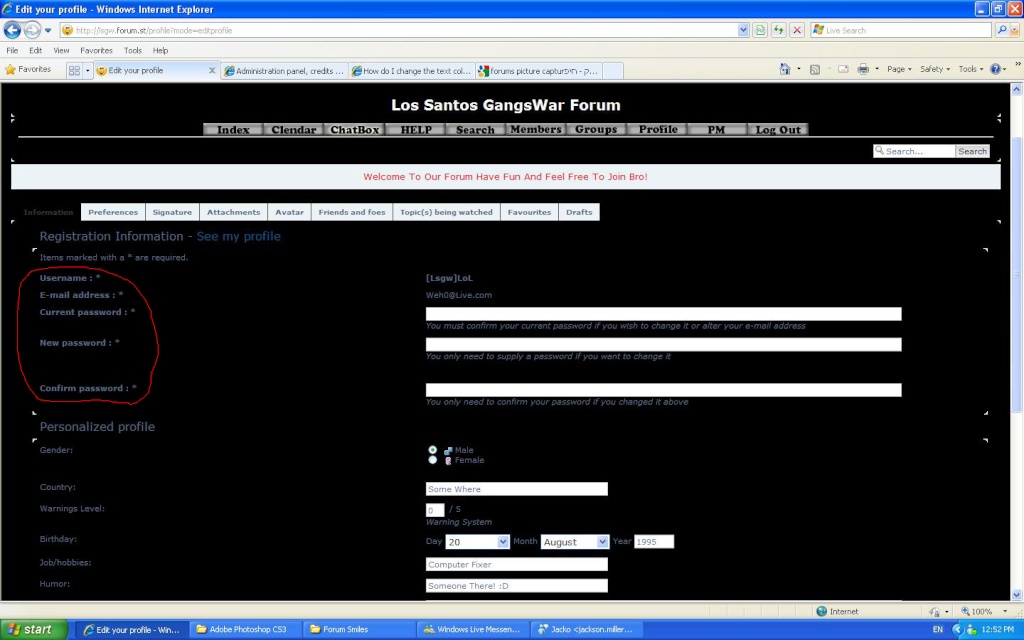 Wehoo

New

Member




Posts

: 7


Reputation :

0


Language

: Hebrow , English, Arabic



bumpp please any help im realy want helP!

Wehoo

New

Member




Posts

: 7


Reputation :

0


Language

: Hebrow , English, Arabic



Hello, your title is not specific and therefore does not facilitate research via the search option. I am not answering (nor is any other member) until you change your title to a more specific title related to your problem.
We ask you to use explicit titles because:
The forum's search engine bases its research on keywords found in topic titles.

When you do a research, do you use "help", "urgent", "problem", "SOS" or "question" as keywords to look for topics about your problem/question?

Certainly not! So this is why it is important to use titles related to your problem/question. Doing this makes the researches much easier for visitors who use the search engine to get an answer to their question.

Thanks for your understanding.

Cordially
Forumotion Staff
Base
Also, posting consecutively is not tolerated unless separated by 24 hours since the last post. This is your second reminder about this, next time will be a warning.
---
Permissions in this forum:
You
cannot
reply to topics in this forum