After turning on the attachment feature for users my co-admin got hit with this page when trying to load a topic at work.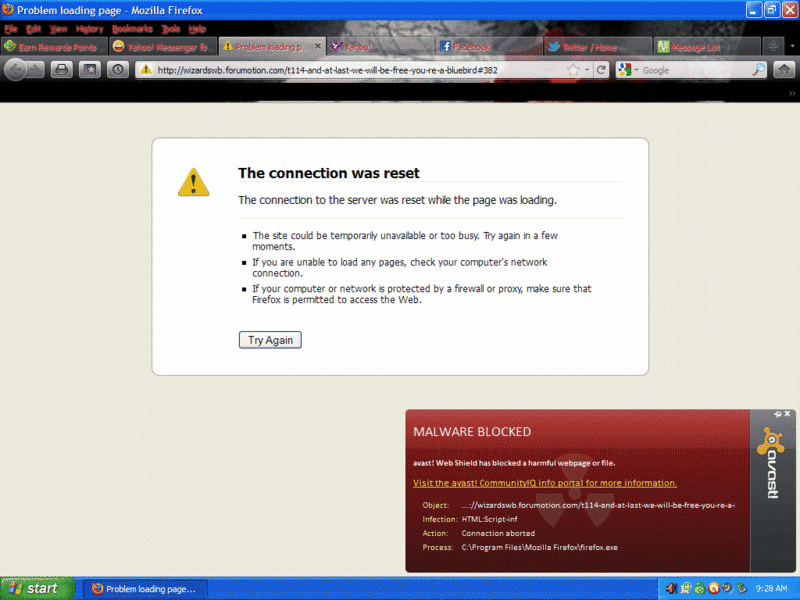 Talking we where able to track it down to a script for Gzip files built into Forumotion.
The info we where able to get from Avast was as follows:
http/ wwb forum.com / gzip
infection HTML: Script-inf
I'm thinking it's either a false positive because of the file format (Gzip being a Linux standard format) or there really is some bad code in the file upload plugin.
She's using the latest Free Avast Antivirus, Firefox 4 and Windows XP and up until yesterday had no problem accessing the site. nor any issues of false positives on our site.
We're running phpbb2 and the error came up when loading
this
roleplay thread.
I've since disabled uploading for users but is there a way to better select what kind of files can/can't be uploaded? (if not.. there really should be for security) and can some forumotion guys please have a look at the gzip plugin to make sure it's safe?
I'm using Avast and have no issues.
That might be because your viewing as a visitor and unable to reply?

if you want i can pm you our testing account's details to try out.
That shouldn't be a issue. Attachments are on here too.

BeBot

Foru

me

mber






Posts

: 136


Reputation :

40


Language

: English



...but I wonder that here are Hacker Forums are to see INSIDE of Forumofforum sites .....bad thing....
-->http://nimbuzzsol.bigforumpro.com/t270-web-flood-complete-guide-and-php-script-for-making-own-web-flood

funwave

New

Member




Posts

: 3


Reputation :

0


Language

: german



it is certainly possible that it's a false positive caused by another forumotion forum having a exploit.

Either way i don't feel comfortable until i know 100% since i certainly don't want any users getting malware.

I have to wait till Monday to get another chance to get her to test out the site and see if Avast is still blocking forumotion, and to see if it blocks all forumotion sites (like this one) or just the one.
Might be her settings that she has on. If it wasn't, I would be getting the same message and wouldn't be able to get on this site.
---
Permissions in this forum:
You
cannot
reply to topics in this forum