Help me please how do Hide admin on Top Posters?
i'am a newbie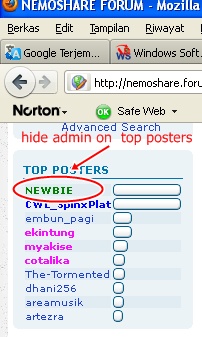 I believe you can not remove yourself from the statistics.

When your topic has been solved, ensure you mark the topic solved.
Never post your email in public.

are you sure???
Yes, you cannot hide the admin.
@Sanket

wrote:Yes, you cannot hide the admin.
You can't? Then how was the Admin hidden from forumotion's Top Poster widget? Unless Nera is the owner and top Admin.
It only shows the members who have posted alot. It could be any member including staff members. It changes when the statistics are updated. The founder/administrator will not always be the top poster.
Hi, that widget is for
this week's
top posters. As you can see, the administrator of this forum has not posted very much this week so therefore he does not appear on the widget. If it was the overall top posters then yes, the administrator should appear.

Other than that, it is not possible to hide the admin.
---
Permissions in this forum:
You
cannot
reply to topics in this forum