Link/Banner: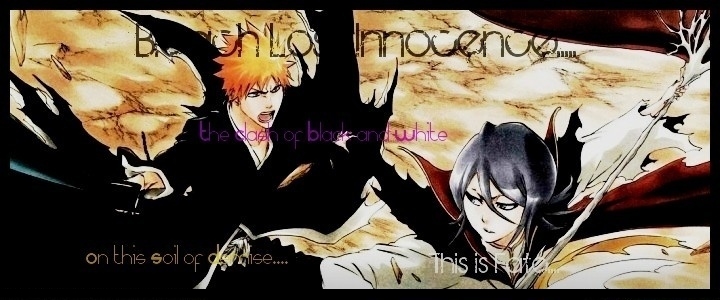 Category: Games & RPG
Title choice: Bleach Lost Innocence
Forum address:
http://bleachlostinnocence.forumotion.com/
Main Language: English
Forum description:
Bleach Lost Innocence or B.L.I.
for short is a role-playing forum that's been created to appreciate the work of
Kubo Tite
, the author of
Bleach
the manga. Before I start laying down my goodies for you, I will mention that the forum's rules and regulations will be strictly followed. If you do happen to break a rule, you will be punished accordingly. Unless there's a liable reason, there won't be any exceptions being made for writing against a rule. There won't be any discrimination to the new members and there won't be any special treatments for old members to get either. The forum will serve justice and fairness to its members. Be minded that fairness does not mean giving away freebies such as Captain position or Espada position to a newbie or those who hold the pretense of "I am a big gun from a forum." B.L.I. will be following canonical rules, terms, regulation, and etc. from the Bleach manga and Databooks only. All the other Bleach info. source such as Anime, and Games will be rejected. (Especially the filler arcs.) Unfortunately for some of you, we won't have any canonical characters from the manga, in order to prevent any flame wars, psychological stress, disappointments and etc. (Ex. Ichigo Kurosaki, Byakuya Kuchiki, Ulquiorra Cifer, and etc.) Each and every race, positions, status, and etc. from the manga will exist within the forum. (Ex. Transcendental, Captain, Vice-Captain, Fullbringer, Espada, Arrancar, Vizard, and etc.) There won't be any custom made races or additional positions to be included, however. (Ex. Mages, Demons, Angels, Cyborgs, and etc.) The forum's been under the management of its founder/owner,
whitereaper
, me, but as it is the issue for most other role-playing forum, it is slightly unfinished. As of now, 07.16.11, the forum's starting out fresh. What I mean by "fresh" is that the forum is not formed under one purpose of a specified group of people, but just one person, the founder. I am trying to gather a group of people, whose wishes are to organize, design, and flourish a
Bleach
role-playing forum. (Moderators, GFX Moderators, Application Checkers, and etc.) Yes, in other words, the forum needs people who can manage, decorate, and plot a forum. Though my abilities are limited, I am quite "able." The general plot, battle system, and management will be done by me,
whitereaper
. So, if you wish to check the place out, then you are definitely welcome to do so. Due to maintenance issues, I will be opening the forum for everyone to join on the date of 07.19.11. Due to my actions, you will see 0 pages having been filled out for character creation, Welcome page, Soul Society, Hueco Mundo, and so on till the designated date. Thanks and that is all for now.
Administrators:
whitereaper
Moderators:
GFX Moderators:
Application Checkers:

whitereaper

New

Member




Posts

: 2


Reputation :

0


Language

: English



Today's Statistics:

Our users have posted a total of 16 messages
We have 1 registered users
The newest registered user is whitereaper

New Report:

@ The forum is currently undergoing its daily maintenance.

@ Kido List is currently being adjusted.

@ Activity is pretty much the same, but hope to boost it once the forum is opened.

whitereaper

New

Member




Posts

: 2


Reputation :

0


Language

: English



Forum does not exist.

=> Garbaged

Jophy

Forum

Guru






Posts

: 17924


Reputation :

835


Language

: English


Location

: Somewhere



---
Permissions in this forum:
You
cannot
reply to topics in this forum