Hello, hope you can assist us. We are on phpbb3.
When we post, hit enter when we then press send. We have double spacing. Looks like we have hit the enter button twice
tanoomasretreat.com

honeybee

Fo

rumember






Posts

: 35


Reputation :

0


Language

: English



To add to this, I have found by a process of illimination that the double line spacing is being caused when "Activate the WYSIWYG mode by default in the posts" is activated. We have always had this activated and the double line spacing only started about 2 weeks ago.

Is there a problem with line spacing when WYSIWYG on phpbb3? We prefer this to be activated, so would appreciate knowing if there is a solution to the problem.
A member brought to my attention yesterday, the problem of double spacing. Since then, a bunch more have spoken up and say it's been happening for a month.
Here is a screenshot in IE. It seems it only happens in IE.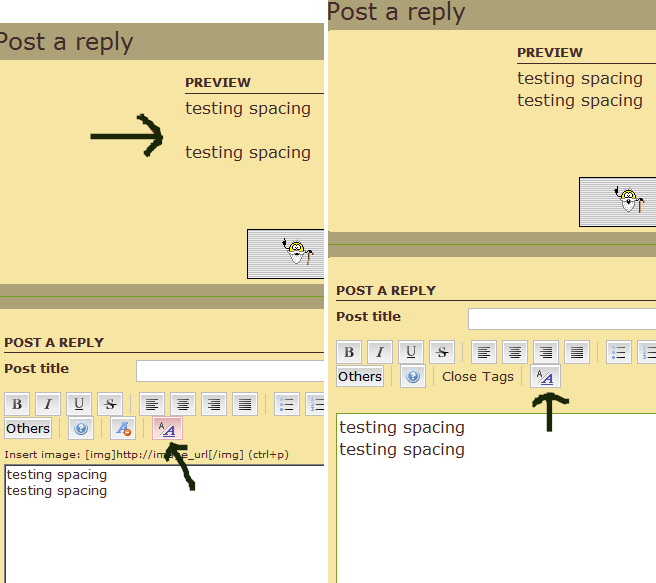 A member created a Jing so you can see it happening
http://screencast.com/t/EMfuVhCrAoX
I'll be happy to provide a test account
http://squarefoot.creatingforum.com
That was a great idea to have a video of the issue.

When your topic has been solved, ensure you mark the topic solved.
Never post your email in public.

Can somebody please help us with this double line spacing problem when using Internet Explorer on a variety of versions from IE7, IE8 and IE9, we have not tried any versions further back.
I have also changed the version on our forum from phpbb3 to bb2, punbb and Invision, and I have the same on all 4 versions.
If you need access to the forum I will have to provide a login, the URL is
http://www.tanoomasretreat.com
I would really appreciate some help here.
Baldy
Just an update , all our members changed to google chrome and or firefox. Must be a microsoft problem. The double spacing only occurs on IE
Thank you for an awesome forum foromation
www.tanoomsretreat.com

honeybee

Fo

rumember






Posts

: 35


Reputation :

0


Language

: English



Since this thread appears to be solved, I will lock this thread and mark it as solved.



Sanket

---
Permissions in this forum:
You
cannot
reply to topics in this forum