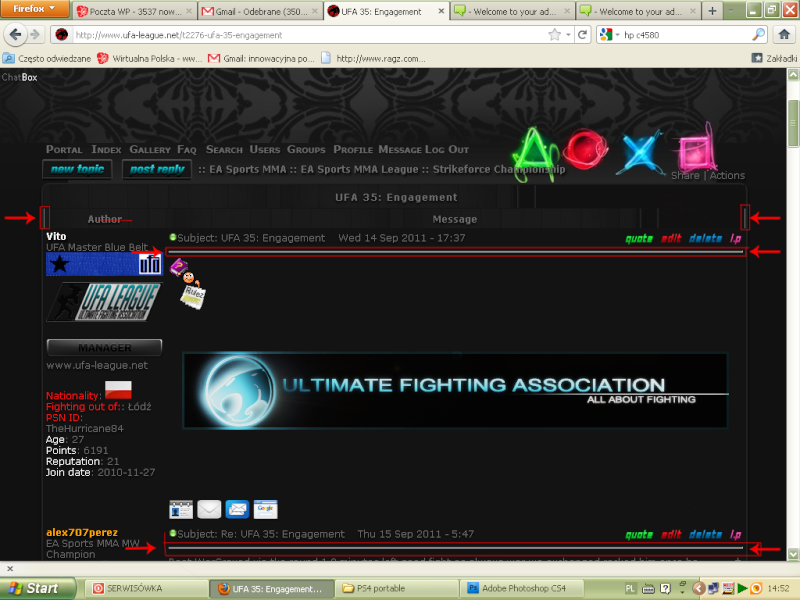 Please help me guys im working on a new look of my forum and this line marked on the image is very annoying and destroying all concept simply doesn't match i dont know how to remove it or at least change color.
And also i would like to remove two small borders from "author" and "message" row also marked on the picture.
This is my forum
http://www.ufa-league.net/t2276-ufa-35-engagement
right now forum is under construction but for the reason can be unlocked for the view.
Hi Vito,

Can you open it so we can actually see the lines?
Right now you should be able to view it by clicking on the link in the 1st post
it's not a big deal but i think this might look a bit better without this line.
And those small borders on the side .. damn this is annoying lol im sure you know Nera how to remove it

I found more of them like in PMs inbox but im tired of making topics how to remove this damn line lol so i will deal with it
just lets solve this request and ill be happy ... for now

Hi Vito,
I see it now, try with adding this to CSS
Code:

td.catRight, td.row3Right, th.thRight {
border: none !important;
}
hr {
border: none !important;
}
td.catLeft, th.thLeft {
border: none !important;
}
You are simply the best Nera of course that it helped. Solved
---
Permissions in this forum:
You
cannot
reply to topics in this forum