Current date/time is September 27th 2021, 8:53 pm
Search found 2 matches for Featured_Stations_Homepage


I have a Medium update for you all:


Our [AWC] chatbox is back in 100% working order, running on version 2.0 which is in Beta Testing!

We have added an additional feature to our #Featured_Stations_Homepage . We have added a 'View Channel' link for each featured station on our homepage. This will allow easier access to everything that station has to offer (Live Chatrooms) etc.

A new topic has been started where you can show off your Broadcasting Equipment!

| | |
| --- | --- |
| -Brandon ~ Broadcasting Duo (BD) Founder | |
by brandon_g

on March 5th 2015, 8:23 pm
Search in: Music/Entertainment
Topic: Broadcasting Duo
Replies: 71
Views: 10036
| | | |
| --- | --- | --- |
| | Broadcasting Duo Update: NEW FEATURE! | |

#Featured_Stations_Homepage
I have a MAJOR Update:
Yesterday (2/16/2015) Broadcasting Duo's Administration released Broadcasting Duo's newest and greatest feature: Featured Stations (Live Streams/Radio Streams) on the HOMEPAGE. This feature has been a work in progress for just about 2 weeks or so, I had been working on it gradually over that time period (I would like to personally thank @Ange Tuteur for his helpful suggestions and guidance while I was working on this feature), it has finally been finished and rolled out yesterday. Our homepage is now a Featured Stations page (this is a major milestone for any Broadcasting focused website to achieve). For the time being the only stations featured are run and owned by our VIP Members, however, their may be the possibility it could be expanded more broadly over time.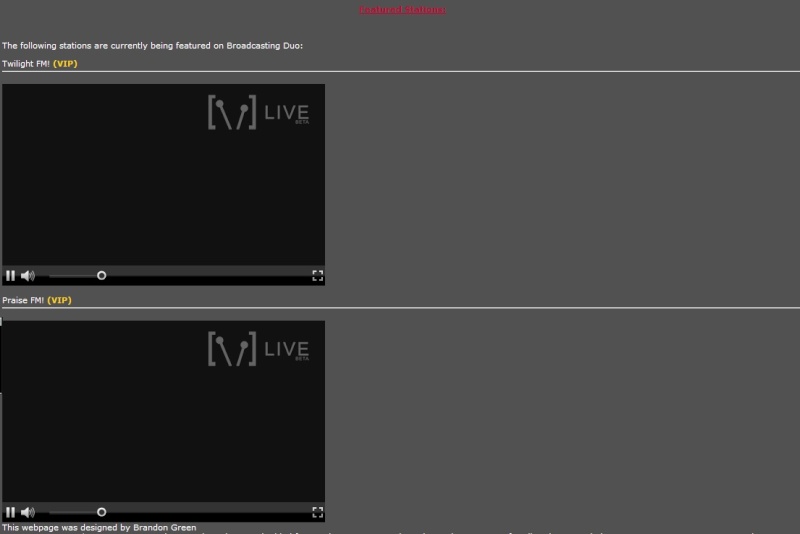 Enjoy listening to our Featured Stations everyone!



| | |
| --- | --- |
| -Broadcasting Duo Administration | |
by brandon_g

on February 16th 2015, 4:44 pm
Search in: Music/Entertainment
Topic: Broadcasting Duo
Replies: 71
Views: 10036