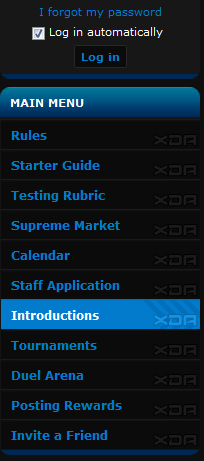 Is add something like this will need coding ? Nah i dunno. Thats why i'm asking here.
Can anyone help me to to create almost like that one ?
I'm not really understand about that tho'
Oh yeah. I'm using PHPBB2 right now
Last edited by BayuDwinata on May 7th 2014, 1:02 am; edited 1 time in total
nama forum ene apaan gan?
@erchima

wrote:nama forum ene apaan gan?
Please post in English as this is the English support forum.

When your topic has been solved, ensure you mark the topic solved.
Never post your email in public.

where is the location of the existing forums in screenshots?
Hi

That's a custom menu. Use this code:
Code:

<style type="text/css">

.arrowgreen{
border-style: solid solid solid solid;
border-color: #141414;
border-size: 1px;
border-width: 1px;
text-align: left;
width: 210px !Important;
position: relative;
right: 49px;
}

.arrowgreen ul{
list-style-type: none;
margin: 0;
padding: 0;
}

.arrowgreen li a{
font: bold 10px Verdana, Arial, Helvetica, sans-serif;
color: white;
display: block;
background: transparent url(IMG LINK) 100% 0;
height: 24px; /*Set to height of bg image- padding within link (ie: 32px - 4px - 4px)*/
padding: 4px 0 4px 10px;
line-height: 24px; /*Set line-height of bg image- padding within link (ie: 32px - 4px - 4px)*/
text-decoration: none !important;
}

.arrowgreen li a:link, .arrowgreen li a:visited {
color: #CF2929;
text-decoration:none !important;
}

.arrowgreen li a:hover{
color: #FFFFFF;
background-position: 100% -32px;
text-decoration:none !important;
}


.arrowgreen li a.selected{
color: #ffffff;
background-position: 100% -64px;
}

</style><script type="text/javascript">
<!--
function popup(url)
{
var width = 500;
var height = 600;
var left = (screen.width - width)/2;
var top = (screen.height - height)/2;
var params = 'width='+width+', height='+height;
params += ', top='+top+', left='+left;
params += ', directories=no';
params += ', location=no';
params += ', menubar=no';
params += ', resizable=no';
params += ', scrollbars=no';
params += ', status=no';
params += ', toolbar=no';
newwin=window.open(url,'windowname5', params);
if (window.focus) {newwin.focus()}
return false;
}
// -->
</script>
<div class="arrowgreen">

<ul>

<li>
<a title="YGODA Guide" href="http://ygoda.forumtl.com/t14-ygoda-guide">YGODA Guide</a>
</li>

<li>
<a title="YGODA Version I Available Features" href="http://ygoda.forumtl.com/t24-ygoda-version-i-available-features">Ver I Features</a>
</li>

<li>
<a title="General Rules" href="http://ygoda.forumtl.com/t25-general-rules">General Rules</a>
</li>

<li>
<a title="Règles Générales" href="http://ygoda.forumtl.com/t70-regles-generales">Règles Générales</a>
</li>

<li>
<a title="Test Requests" href="http://ygoda.forumtl.com/f42-test-requests">Test Requests </a>
</li>

<li>
<a title="Tournaments" href="http://ygoda.forumtl.com/f8-tournaments">Tournaments</a>
</li>

<li>
<a title="Introductions :: Farewell" href="http://ygoda.forumtl.com/f1-introductions-farewells">Intro :: Byes</a>
</li>

<li>
<a title="Gaming Area" href="http://ygoda.forumtl.com/f19-gaming-area">Gaming Area</a>
</li>

</ul>
</div>
Change the links, and what not to the ones you need and this portion as well:
Code:

display: block;
background: transparent url(IMG LINK) 100% 0;
The IMG LINK represents the appearance and in hover, create one. If you want a radius, you should add in border-radius into the code.
Regards,
Pizza Boi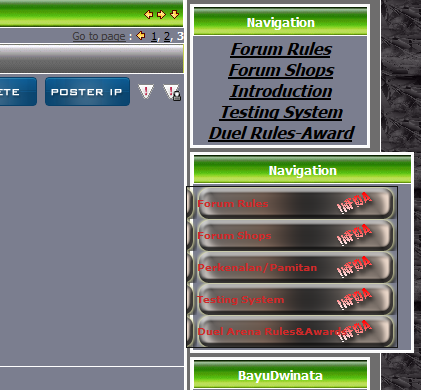 It become like this sir..
The code i'm using :
Code:

<style type="text/css">

.arrowgreen{
 border-style: solid solid solid solid;
 border-color: #141414;
 border-size: 1px;
 border-width: 1px;
 text-align: left;
 width: 210px !Important;
 position: relative;
 right: 10px;
}

.arrowgreen ul{
 list-style-type: none;
 margin: 0;
 padding: 0;
}

.arrowgreen li a{
 font: bold 10px Verdana, Arial, Helvetica, sans-serif;
 color: white;
 display: block;
 background: transparent url(http://i57.servimg.com/u/f57/18/82/60/38/nav_me10.png) 100% 0;
 height: 24px; /*Set to height of bg image- padding within link (ie: 32px - 4px - 4px)*/
 padding: 4px 0 4px 10px;
 line-height: 24px; /*Set line-height of bg image- padding within link (ie: 32px - 4px - 4px)*/
 text-decoration: none !important;
}

.arrowgreen li a:link, .arrowgreen li a:visited {
 color: #CF2929;
 text-decoration:none !important;
}

.arrowgreen li a:hover{
 color: #FFFFFF;
 background-position: 100% -32px;
 text-decoration:none !important;
}


.arrowgreen li a.selected{
 color: #ffffff;
 background-position: 100% -64px;
}

</style><script type="text/javascript">
<!--
function popup(url)
{
var width  = 500;
var height = 600;
var left  = (screen.width  - width)/2;
var top    = (screen.height - height)/2;
var params = 'width='+width+', height='+height;
params += ', top='+top+', left='+left;
params += ', directories=no';
params += ', location=no';
params += ', menubar=no';
params += ', resizable=no';
params += ', scrollbars=no';
params += ', status=no';
params += ', toolbar=no';
newwin=window.open(url,'windowname5', params);
if (window.focus) {newwin.focus()}
return false;
}
// -->
</script>
<div class="arrowgreen">

<ul>

<li>
<a title="Infida Forum Rules" href="http://firstacademy.forumid.net/t1-infida-rules">Forum Rules</a>
</li>

<li>
<a title="Infida Forum Shops" href="http://firstacademy.forumid.net/t5-infida-official-shop">Forum Shops</a>
</li>

<li>
<a title="Perkenalan/Pamitan" href="http://firstacademy.forumid.net/f3-introduction-farewell">Perkenalan/Pamitan</a>
</li>

<li>
<a title="Test System" href="http://firstacademy.forumid.net/t4-testing-system#4">Testing System</a>
</li>

<li>
<a title="Duel Arena Info" href="http://firstacademy.forumid.net/t6-duel-arena-rules-and-rewards">Duel Arena Rules&Awards</a>
</li>

</ul>
</div>

Sorry to double post, but
SOLVED .
I'm edit the code you given to set the image size
Topic solved and archived
---
Permissions in this forum:
You
cannot
reply to topics in this forum